I'm a long-time Grammarly user. It's helped me in my writing – and when I started using it, it was the best writing software available.
But now it's 2023. Is Grammarly still the perfect spelling and grammar checker? We aim to answer the question in this in-depth Grammarly review.
Irrespective of your writing style, you need an easy-to-understand app that checks your grammar, spelling, punctuation, tone, style, and word choice. A grammar checking tool will help you identify these mistakes. Bottom line, everyone needs a proofreading tool, some more than others. Writers don't always have access to a human editor, and any writer will tell you it is not easy to edit text written by themselves. You tend to read what you wanted to say instead of the words you wrote.
In this Grammarly review, we discuss what Grammarly is, how to use Grammarly, the pros and cons, is Grammarly premium worth it, the difference between the free version and Grammarly premium, and how a grammar tool can improve your writing. If you want to see how Grammarly stacks up against the best proofreading software, visit this article.
Great Overall Grammar Checker
Grammarly is a great tool to strengthen your writing and help you say exactly what you mean.  Easy to learn and use. Both a Free and Paid tier of products.
What Is Grammarly And What Does Grammarly Do?
Grammarly is a proofreading software tool that uses artificial intelligence technology to detect grammar, spelling, punctuation, style, sentence structure, and word choice mistakes. An embarrassing typo, placing the comma incorrectly, the poor word choice, or the wrong written tone, could result in misunderstandings, getting low grades, losing out on a job interview, or even costing a client money.
The Grammarly app and web browser extension will conveniently help you avoid publishing content with grammar or spelling mistakes. Grammarly proofreads and recommends necessary changes according to your preferred writing style. Grammarly also features a plagiarism detector that warns you when your content is not original.
Who Should Use Grammarly?
If you are writing in the English language (American, Canadian, Australian, or British English), Grammarly can optimize any content you write. No matter what kind of writing you publish, the editing service Grammarly provides is for anyone. More specifically, Grammarly's writing software is for:
A blogger or writer publishing a blog post or article on a website.
Students completing homework assignments or college papers.
An employee who wants to write work emails without embarrassing typos or is editing their resume or CV for a job interview.
Facebook, Twitter, and other social media posts people write for family, friends, or business.
Fiction writers and non-fiction authors wanting to engage their audience.
Business writers writing case studies, reports, presentations, and other documents.
Academics writing formal research papers.
Teachers who use a plagiarism detector to confirm the essay content is original.
A copywriter writing brochures, sales sheets, and website landing pages for B2B and B2C companies to increase sales.
Freelance writers writing reviews, articles, books, and other content for clients.
Professionals like lawyers, doctors, engineers, and journalists wanting to write without grammatical errors, spelling mistakes, and punctuation errors.
Anyone who has a message they want to convey in a written format to an audience.
Is It Easy To Use?
Yes, Grammarly is easy to use. You don't have to be a computer whiz or have proofreading experience; if you can click a button, you can use Grammarly. Its user-friendly feature is one reason why Grammarly is such an excellent proofreading software tool.
One-Click Feature
The one-click feature saves a writer time.
Grammarly's suggestions pop up as a right sidebar that scrolls in line with your content. You can quickly compare Grammarly's recommendations to your text to the left and make an informed decision at a glance. With one click, Grammarly corrects the word or phrase. You don't have to type the suggestions; it simply autocorrects or leaves it as it is if you reject the suggestions.
Great Overall Grammar Checker
Grammarly is a great tool to strengthen your writing and help you say exactly what you mean.  Easy to learn and use. Both a Free and Paid tier of products.
Automatic mode edits as you write, which helps if you regularly make the same typos, like typing "teh" instead of "the."
Grammarly's real-time features may satisfy any writer wearing the editor's hat and their creative hat simultaneously. Editing while you are brainstorming words on a page is not always the best practice, but it isn't always easy to switch off the internal editor and allow creative juices to flow.
Available on Multiple Platforms
Grammarly is easy to use on any platform with the multiple apps available. Grammarly doesn't limit you to a specific writing platform. Whether you are writing on the internet, on your computer desktop, cell phone, or tablet devices, the grammar checking tool is one click away.
The Safari, Firefox, or Google Chrome extension helps detect grammar issues when writing online and on websites. The free browser extension functionality works anywhere on the web, catching a writing mistake you may make on Facebook, Gmail, LinkedIn, or drafting an article or blog post in WordPress.
Grammarly for Microsoft Office offers real-time grammar detection when creating Microsoft Word documents or writing an Outlook email. The built-in grammar checkers open with one-click; you can also set it to open when opening a Word document automatically.
Grammarly.com is one of the few proofreading software tools that support Google Docs.
Grammarly Keyboard has you covered when quickly texting a response to your boss, potential client, or peers. The real-time feature autocorrects those embarrassing typos.
Depending on your preference, you can use the Grammarly Editor online, a Windows desktop app, or on devices like your iPad. Copying and pasting or dragging and dropping content into the Windows desktop app is a quick way to detect grammatical errors. You can also upload a document into the Grammarly Editor.
Grammarly's Plagiarism Checker
Grammarly's plagiarism detection feature can assist a student, teacher, academic, business, professional writer, and any person who wants to make sure they haven't accidentally copied someone else's content.
The plagiarism checker compares the text with over 16 billion academic papers and web pages stored in ProQuest's databases. Copying and pasting text into the plagiarism checker should address any concerns regarding plagiarism issues.
Grammarly's free version gives you an instant report telling you if it detected any plagiarism. It also indicates any grammar or spelling errors found in the text.
The premium version calculates an originality score, flags the sentences, and gives information about the source. It also provides suggested corrections and feedback about spelling and grammar errors.
Grammarly Free Vs. Grammarly Premium – What's The Difference?
How does the free version of Grammarly differ from the premium version, and what are the costs?
The Grammarly free version offers necessary writing corrections.
Although it is easy to understand, Grammarly's spelling, grammar, and punctuation checker tools are not basic!. I was a fan of the free version for years; I never thought I needed to upgrade…until I tried Grammarly Premium.
The free version is more than sufficient for informal writing and as a grammar checker for homework assignments, essays, and everyday writing tasks. It is a way better option than the standard word processor spelling and grammar checkers.
How much does Grammarly cost?
Grammarly offers various plans based on the number of users. The Grammarly Premium version is for individuals and Grammarly Business for teams. Subscriptions are billed monthly, quarterly, or annually. The purchase price varies depending on the package type; yearly subscriptions are more cost-effective than monthly.
For example, the premium version's individual pricing is $29,95 per month, $59.95 per quarter (which works out to $19.98 per month), and the annual subscription is $139.95 (which works out to $11.66 per month).
See Also: ProWriterAid Grammar software review
What Is Grammarly Premium? Is Grammarly Premium Worth Paying For?
Is your writing worth reading? I'm sure it is because you have something to say for a specific audience. Is Grammarly Premium worth paying for? Yes, it worth it to you and your readers. Grammarly Premium saves you time and money delivering content, which is easier to understand and more readable to your reader without embarrassing mistakes.
Grammarly Premium offers so much more than the free version. The advanced writing feedback includes everything packaged in the free version and more…
Grammarly Premium checks fluency, consistency, spelling, grammar, and punctuation.
Readability and conciseness suggestions opt for a more satisfying reading experience.
Sentence variety and compelling vocabulary provide better reader engagement. The premium versions offer helpful suggestions on how to improve your content.
A delivery settings pop-up box allows you to tell Grammarly the tone, formality level, confidence, and politeness of your writing. The spelling and grammar checker works according to these settings.
Great Overall Grammar Checker
Grammarly is a great tool to strengthen your writing and help you say exactly what you mean.  Easy to learn and use. Both a Free and Paid tier of products.
How Can Grammarly Help You – And How Accurate Is It REALLY
How Accurate Is Grammarly?
In our Grammar Test Sheet, Grammarly Premium found 47 mistakes. However, Grammarly is not a human editor, and it can miss a grammar mistake due to the context and tone. That's why its explanation features are so powerful in helping a person decide which options to chose.
Accept All Suggestions
You will see an 'All Suggestions' option at the sidebar's top. Grammarly combines suggestions you would generally accept; in the test document, there were 8. The idea is to correct all of them with one click, saving you time.
These are common grammar mistakes like their vs. there, too vs. to, complement vs. compliment, whom vs. who, and missing commas in compound sentences. You have the option of scrolling and deselecting the ones you prefer to keep. With one-click, you can accept all of them at once, which is a timesaver.
Grammarly's Accuracy
We tested Grammarly's accuracy with a tough Grammar test that contained some challenges most human editors would have missed. Grammarly only failed 9 out of the 37 examples, which is excellent.
It seems Grammarly has trouble with grammar rules relating to proper nouns involving a person. However, it caught most grammar issues and is an excellent proofreading tool; it is not a human editor and doesn't claim to be one. Therefore, it is good practice to use Grammarly for spelling, grammar, and punctuation checks, but not to rely completely on it or any other proofreading program.
Weekly Performance Report
Grammarly sends you a weekly report with valuable information to better your writing. Grammarly's performance report draws your attention to common mistakes you make, which helps you measure your writing skills to write better.
Text Score
Grammarly Editor's text score is between 0 and 100, scoring the number and variety of suggestions. Your text score is also compared with other documents with similar goals, which means you can rate your writing skills with others.
Readability Score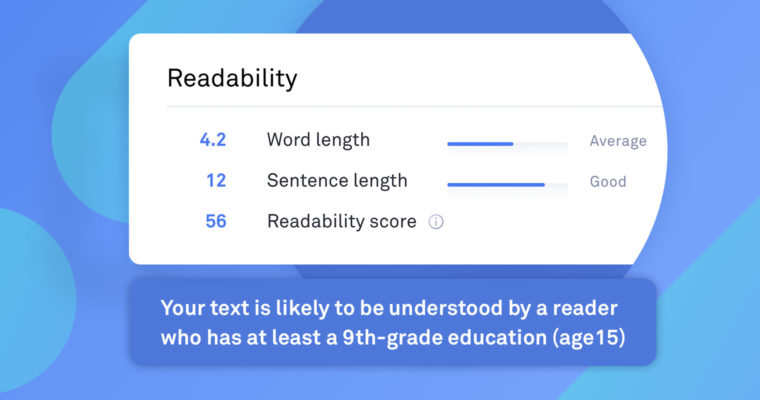 Most writers understand this feature's importance; sadly, many ignore the principle. A readability score indicates how easy the audience will read and understand the content. Long sentences with complicated words lower the readability score. The higher the score, the easier it is to read.
The readability score shouldn't be lower than 60, the average reading level of an 8th grader or American 13-year-old.
Word Count
Generally, a blog post, a social media post, or a web page has an optimum word count, like email subject headings with limited character count. The Grammarly word count feature shows you the word and character count; it also provides the number of sentences and how long it takes to read and speak the text, which helps when writing YouTube video scripts.
Writers who use word count to establish a writing routine finds this word count feature an excellent accountability tool.
Vocabulary
Vocabulary is about a person's word choice, which engages or disengages a reader. The vocabulary score counts unique and rare words to determine the text's interesting or mundane level.
It scores how many times you used different words; unique words make the content interesting. Rare words are not one of the 5000 most common words used in the English language. Too many rare words could put readers off because the text becomes too challenging to read; a person doesn't want to use a dictionary to help them decipher the content's meaning.
Set Goals For Tailored Suggestions
The weekly report can help set writing goals, like word count or avoiding repetitive grammatical errors. Writing goals may improve your general writing skills; the Editor's goals are for specific writing pieces.
The four goals are the audience, formality, domain, and tone. By setting these goals, the writer tells Grammarly how to adjust its suggestions according to its tone and writing style.
Audience
Who is going to read your text? Are you writing to a highly technical or knowledgeable audience or more general readers? The type of audience you select tells Grammarly the appropriate level for readability and clarity.
Formality
Basic grammar rules look at sentence structure and how nouns, pronouns, adverbs, etc., are used. Choosing formal, informal, or neutral influences how casual or formal your writing tone comes across to readers. Idioms, popular expressions, and slang could be appropriate in informal writing, but academic and business writing should adhere to stricter grammar rules. Grammarly editor considers this when recommending grammar changes.
Domain
The six document types, academic, business, general, email, casual, and creative, determines the type of document you want to grammar and spell-check.
General is the default style and the one to choose if you aren't sure what style your text portrays.
Academic enables formal and adherence to the severest grammar rules; informal pronouns, for example, will be flagged.
Business also requires strict grammar checking, flagging passive voice, considering the sentence length, but some informal pronouns could be allowed.
Email, which was formally the technical style, focuses on avoiding vague and confusing phrases.
Casual is for writers who prefer long sentences, writing in passive voice with split infinitives and informal pronouns.
Creative bend the grammar rules to a certain degree. Fiction authors may opt for this type of writing style. Although the Grammarly Editor's spell checker and identifying grammar mistakes function, you can get away with fragment sentences, incomplete comparisons, passive voice, and wordy sentences.
Tone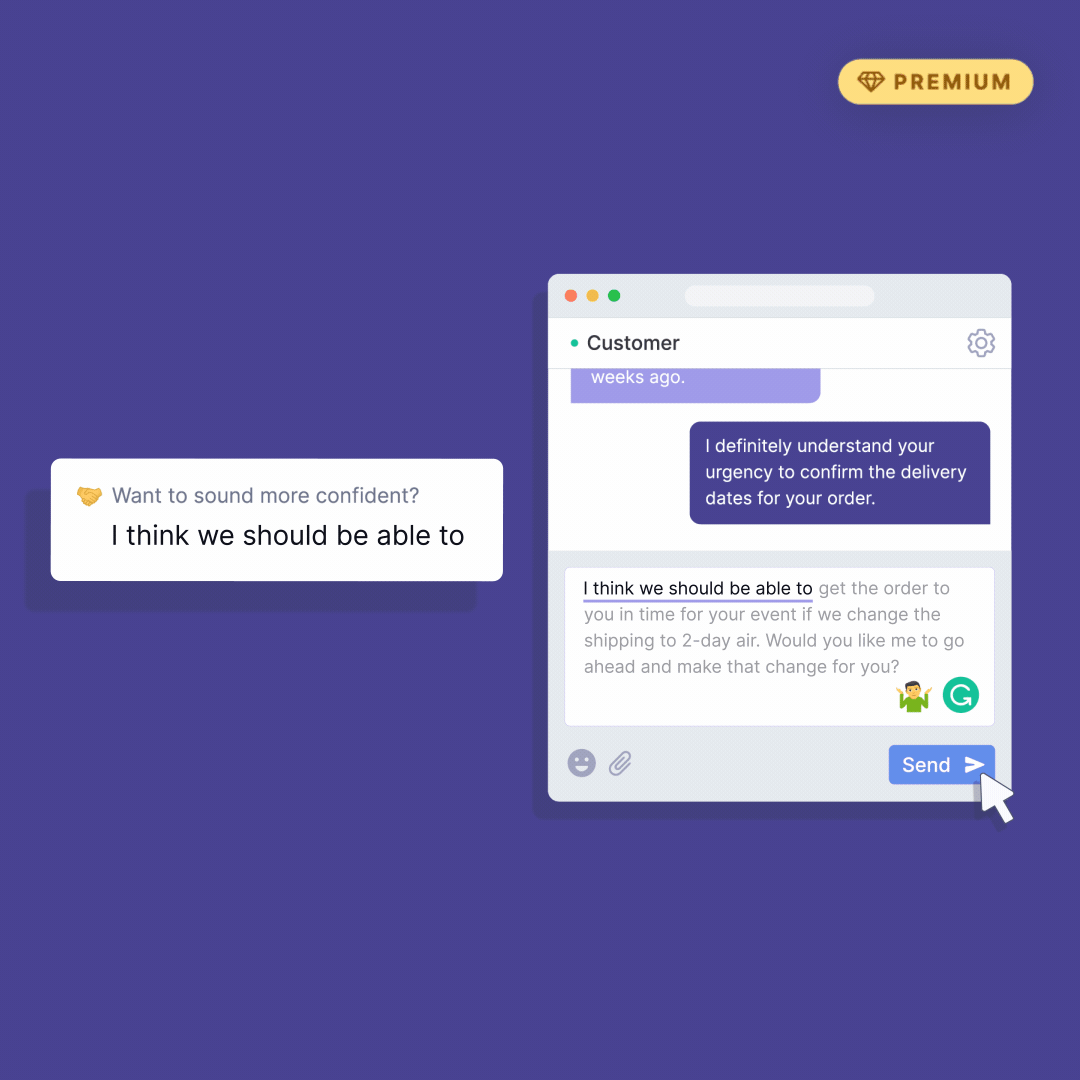 Setting the right tone can deflate explosive situations. Grammarly helps you rephrase your sentence with confidence, earnest but polite, and how to disagree with diplomacy.
Intent
Lastly, the intent describes what you want to accomplish with the piece of writing. Are you informing the reading, explaining something, persuading the audience, or telling a story? Intent helps Grammarly select which grammar it should flag and which ones are acceptable for the writing style. Fundamental rules like spelling and punctuation errors, Grammarly will flag, but your intent may allow slang words or run-on sentences.
How I Use Grammarly For Writing
Grammarly is not a human proofreader, but Artificial Intelligence software; it is probably the closest you will get to a human proofreader at a fraction of the cost. I started using Grammarly shortly after they introduced the MS Office app. Initially, the free version of Grammarly was sufficient to cover the basics in checking spelling and grammar; I didn't see the reason why grammar software should cost money.
Then I tried the Grammarly Premium version and switched to the annual subscription. Is Grammarly Premium worth it? The short answer is an absolute yes! The free version and the premium subscription are the best proofreading writing apps you may find.
Here's my take on the pros and cons of Grammarly.
What I love
Grammarly finds writing errors the human eye may not detect. We tend to read what we wanted to write and not what we wrote. Grammarly's AI proofs what you have written.
The ease of use is one of many reasons I like Grammarly. With one click, you can accept or reject the recommended suggestions, saving me a lot of time.
As a freelance writer, I write on multiple writing platforms. I use the Chrome extension extensively when writing on the web, posting on Facebook, or creating blog posts in WordPress. Clients have their preferences, some prefer Google Docs and others prefer MS Word. I'm flexible, and so is Grammarly. Irrespective of the platform, Grammarly has an app available.
The convenience of dragging and dropping content into the Windows Grammarly desktop app is a time saver any writer will appreciate. I uploaded documents to the Grammarly Editor, but sometimes I have a short paragraph I need to publish quickly but mistake-free. Copying and pasting it into the online editor is fast and efficient, especially when in a hurry.
Setting the proofreading goals gives me the freedom to write in any style, tone, and intent. Grammarly accommodates the style guides I chose when proofreading the content.
English Grammar varies in different dialects. Australian English has distinct Grammar rules, likewise British English, Canadian English, and American English. Grammarly embraces them all.
The consistency check, the correctness of spelling words, placing commas, and abbreviations vary in different English dialects. It can prolong the writing process if you need to figure out which is appropriate for American English versus British English; Grammarly does it for you.
Plagiarism detection is vital for anyone who writes content and uses the internet for research. Grammarly's plagiarism tool helps keep my content original and clean.
Grammarly is my writing coach. I read its weekly report and take note of common mistakes, whether I've reached my writing goals, and how to become a better writer.
What I'd Change
Grammarly is such an excellent grammar detection problem solver, that its limitations are small in comparison to its multiple features.
The only thing I would change in Grammarly is having all these beautiful features available in other languages. The ability to translate content into different languages with an app they can trust would benefit many writers and business people.
Another change, which isn't really a con, is the inability to undo writing when using Grammarly in MS Word. I tend to rewrite my sentences, and sometimes I want to revert back to the previous version. If I rewrite with the Grammarly tool open, I cannot undo and use the last sentence. It seems like this limitation is only in MS Word; I haven't noticed it when writing online.
Great Overall Grammar Checker
Grammarly is a great tool to strengthen your writing and help you say exactly what you mean.  Easy to learn and use. Both a Free and Paid tier of products.
FAQ
Does Grammarly Work For Mac Users?
Yes, Grammarly works for Mac users, and these are the products currently available for a Mac:
Grammarly Editor
Grammarly for Microsoft Word on Mac. It is compatible with macOS High Sierra (10.13), macOS Mojave (10.14), macOS Catalina (10.15), and MS Office versions 2016 and higher.
Google Chrome, Firefox, and Safari browser extensions.
Does Grammarly Steal Your Work?
According to Grammarly's privacy policy, Grammarly does not rent or sell your personal data – they don't need to, Grammarly makes money with paid subscriptions.
Grammarly is not a keylogger, which means the software does not record every keystroke a person using Grammarly makes. The editing software accesses your text as the spelling, grammar, and punctuation checker, but it does not read what is typed in sensitive marked fields like passwords and credit card forms.
Can Grammarly Help Improve Your Writing?
Grammarly highlights a person's spelling errors, grammar, and punctuation mistakes-which isn't bad because it indirectly improves your writing.
Accepting or rejecting Grammarly's suggestions require active participation. You must decide if you want to keep your word choice or change it to Grammarly's suggestion. It is not an automatic response, which means you notice patterns and standard errors, which improves your writing because you write more concise, readable content.
We trust this Grammarly review answered some of your most important questions. Are you using Grammarly; if so, which version of Grammarly do you prefer? What is your verdict from your own Grammarly review? What do you like most about Grammarly premium, and what would you like to change in Grammarly? If you haven't used Grammarly Premium before, why not give it a try?