Planning a birthday party for your kid is sometimes more fun than being the party host at the actual event. Planning a Lego birthday party is even more fun with the variety of Lego themes, such as Lego Star Wars movie, Lego characters, or making it an easy Lego bricks party. Plan the party fun based on a Lego Star Wars movie or make it an easy Lego bricks party. The right party supplies can transform your home into a Lego world within moments without spending a lot of money; some of it you can make yourself.
We created a quick checklist of essential party items needed. Then we compiled a Lego party ideas collection list including DIY ideas, cake ideas, cupcake toppers, party games for kids, and ideas for party favors.  I can't think of something a Lego fanatic would enjoy more on their birthday – other than maybe getting one of the best Lego sets as a gift!
[powerkit_posts title="You Should Also Check Out:" count="2″ offset="0″ image_size="pk-thumbnail" category="" tag="" ids="3553860, 5592266″ template="grid-4″]
Birthday Party Supplies Lego Themed Checklist
Organizing a birthday party can be challenging with all the bits and pieces required and not wanting to forget something important. We created a checklist of the necessary Lego party supplies and listed some exciting ideas to help you with the party planning of a LEGO themed birthday party.
Guestlist and invitations
Venue
Birthday cake, cupcakes, snacks, and drinks
Party foods, beverages and partyware including tablecloth, plates, cups, bowls, straws, and napkins
Refreshments for adults
Party favors and goodie bags
Decorations including a birthday banner and balloons
Games and activities
Bin bags
Camera or video camera
Lego Party Ideas for Invitation
The DIY Lego block invitations are made from colored cards, and one-inch holes punched with a puncher. By sticking the circles on a card with 3D foam tape, the circles are raised, making them look like 3D Lego bricks.
The Lego party invitations consist of a pack of 10 invitations, and 10 thank you cards. If you don't have time to make invitations, you can always purchase invitations with a Lego theme.
Juvale's Block Birthday Party invitation set includes 16 invitations made from recycled paper and 16 party favor goodie bags. The fun Lego invitations are 6 x 4 inches and decorated with colorful illustrations of building blocks. The goodie bags are 6 x 9.5 inches
The invitations are printed on heavyweight 250g card stock paper with a matte finish. The bags are 100g.
The Lilly and the Bee Novelties invitation pack consists of 12 building blocks invitations with 12 white envelopes. The invitations are 6 x 4 inches. The one side of the invitation card has a large blue Lego brick image, and the invitation side has colorful blocks surrounding the invitation.
Cake and Cupcake Ideas
The Lego Birthday Decoration Cake is designed as a cake topper for a Lego-themed birthday party. Give it to your birthday boy or girl to build before placing it on the cake. Building an easy Lego cake may create more excitement for the birthday party.
A small lever opens the top of the Lego cake, and out of the cake pops a half-Minifigure. There are enough bricks for any birthday number, and instructions are included. The 120 pieces Lego set fits on standard-sized cakes and would make a great topper with Minifigures on a sheet cake. After the party, your kiddo can rebuild the cake and add it to their Lego collection.
The Robot Silicone Cake Mold is a cute silicone cake pan for a child's birthday party, Lego-themed Lego movie-related, or other robot-themed parties. The mold is reusable. The red mold dimensions are 12 x 7.6 x 1.5 inches, which is ideal for a birthday cake.
The 100% food silicone is BPA-free, safe, and heat resistant up to 450 degrees Fahrenheit. You can wash it in the dishwasher, use it in the microwave oven and fridge. The mold can also be used for party favors, to make pudding, chocolates, candy melts, or frozen yogurt treats.
Use the mold to make Lego crayons or candles for decorations or birthday party activities.
The Lego Brick Cake Jelly Mold is one of the best Lego birthday party ideas. Each Lego brick mold is 2.5 x 2.5 x 1,.75 inches, the perfect size for a cake portion for a child. You may use the mold to make Lego brick cakes, brownies, jellies, or even soap.
The silicone material is durable, non-stick, dishwasher-safe, and oven-proof up to 400 degrees Fahrenheit.
The Lego Minifigure Series 18: Party mystery bag contains one of the 17 characters in the party collection. Each Minifigure comes with accessory elements, a unique display baseplate, and a collector's leaflet.
You may purchase the Minifigures separately like the Birthday Cake Guy.
A Lego birthday party cake needs candles like any birthday cake. The Building Block Candles come in a set of 8 candles, two of each color. The candles look like real Lego bricks and come in different shapes.
The Cupcake Wrappers with Picks transforms an ordinary cupcake into a LEGO party cupcake. The wrappers are ideal if you don't have the time or inclination to make fancy cupcakes.
The liners are 3 inches, and the picks 3 ¾ inches. Use the picks on cupcakes or decorate other treats. The package includes 50 cupcake liners and 50 picks. The wrappers are sturdy and larger than the average-sized cupcake to accommodate different sized cupcakes. Simply cut the excess away.
Lego Birthday Party Table Settings Supplies
If a Lego movie is the theme of the birthday party, fill the Fun Express Block Party Popcorn Boxes with popcorn or use it for snack boxes. The cardboard boxes have Lego bricks block print are on two sides of the boxes. The popcorn boxes come in four colors. There are 24 boxes in a party supplies pack.
The dimensions of the snack boxes are 3 x 3 x 3.75 inches, which is big enough to fit about 7-8 pieces of candy if you want to use it as a party favor.
With tableware representing Lego building blocks, the Lego theme is already represented. The Deluxe Party Kit comes with a 54 x 96-inch building block table cover and 16 sets of a 7-inch dessert plate, a 6.5-inch luncheon napkin, and a 9 oz paper cup decorated with building blocks.
Lego Party Decorations
A birthday party is not a birthday party without balloons, and Lego birthday parties need Lego-themed balloons! With 48 Gift Boutique, Building Block Party Balloons may brighten the room. The balloons come in six bright colors with six different emoji faces printed in yellow on both sides of the balloons.
The 12-inch balloons are made of high-quality, long-lasting latex material. Use the balloon as birthday party supplies, decorations, for goodie bags, party favors, or let them float.
Katiedid and Kids made Lego party lanterns from black, yellow, and white construction paper as decorations for the Lego party theme. You will find the instructions on how to make these lanterns on the site.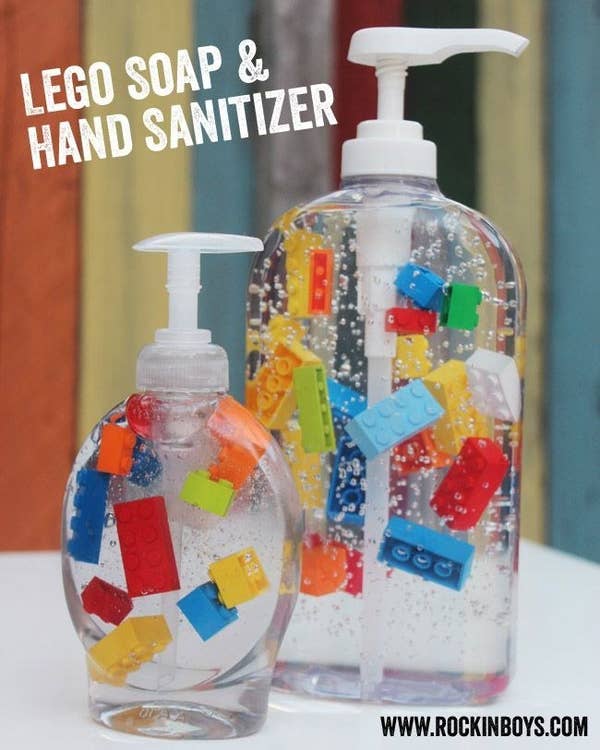 Add some Lego bricks to the soap dispenser, and you may have no problem with kids wanting to wash their hands.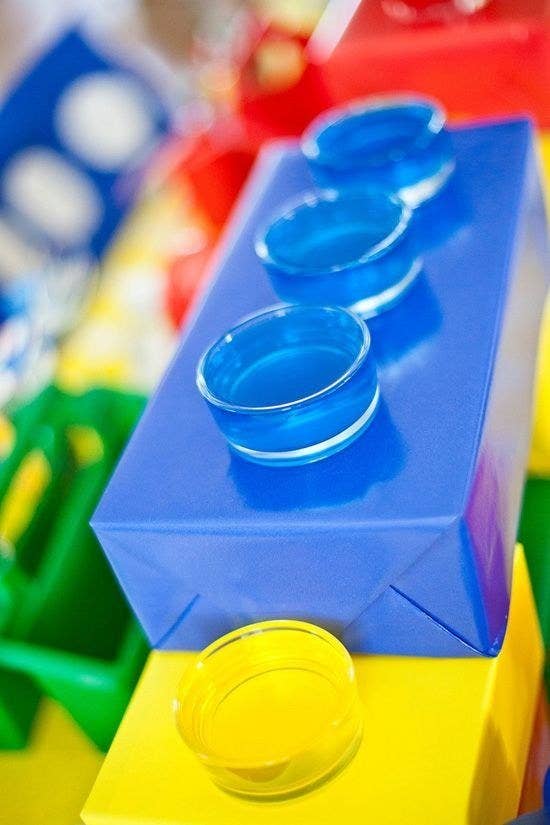 Start saving up empty tissue boxes to make decorative Lego bricks. Cover the tissue boxes with colored paper, punch holes at the top and place plastic cups in the holes for the Lego brick look.
Party Games and Activities
The Color Blocks Bend Game is like the game Twister. The 5 x 6 feet vinyl mat is covered in Lego blocks. The 12-inch cardboard spinner directs kids' movement. Depending on where the arrow stops, it indicates the Lego brick color and where to place the right foot, left foot, right hand, or left hand.
The game is a fun activity for kids from 3 years old and older. Some reviewers suggested that kids play with socks to avoid damaging the mat. Other suggested taping it so that it does not slide.
If you do not want to use it for an activity, the plastic mat makes a great LEGO birthday party tablecloth.
Instead of pinning the tail of the donkey, East Coast Mommy has a template to pin the Lego head on the Lego man. The templates include a printable Lego man heads and hands, body, arms, and legs.
Each child should have a LEGO head to pin. Write the children's names on their LEGO head to determine who was the closest. Don't forget the blindfold!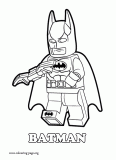 The website Coloring Page has a variety of coloring pages representing Lego Minifigures, Lego Batman, and other heroes. Kids may color the pages and then stick it on the wall as part of the birthday party decorations. Each printable color page explains who the Minifigure is and what they do.
Lego Party Favors and Gift Bags for Guests
The GearRoot Building Blocks Glasses Baseplate package contains 9 glasses baseplates and 9 small bags with building bricks accessories. The building blocks are compatible with Lego and other building blocks, which means kids may add Minifigures and other building blocks to personalize their glasses.
The Gift Boutique Party Favor set is enough for 12 older kids or teenagers. The set consists of 12 pencils, 12 mini notepads, and 12 larger and 12 smaller erasers. The erasers are stackable measuring 1.5 x 0.75 x 0.5 inches and the smaller eraser is 0.75 x 0.75 x 0.5 inches. The mini notebooks contain blank pages for drawings and doodling notes and measures 3.75 x 2.25 x 0.15 inches.
The Fun Express Slap Bracelets are the ideal party favors for girls and boys at a Lego-themed birthday party. The colorful, metal bracelets looking like Lego bricks easily slap on and off. Be mindful that it is not made from cloth, and you should avoid the bracelets from getting wet.
Sports enthusiasts and jewelry lovers may adore the Shop Zoombie party favor. The 36 package includes 12 paddle balls, 12 bracelets, and 12 rings.
The shape of recycled baby food jars may look like the shape of a Lego Minifigures head. Spray paint the jars yellow and draw with a black sharpie the face on the jar. The storage jar is a fun party favor that is functional too.