As a former third grade teacher, I'd often wished I could roll back time and meet the parents of my struggling readers at the door of their maternity hospital with a stack of picture books. There was nothing sadder to me than an eight year old that had missed out on being read to from the very start.
After years of teaching and observing students, it became clear to me that children who struggled in school lacked the necessary tools that come from being read to that their successful peers possessed. Brain science tells us that the first three years of life are critical in building the neural pathways that are the infrastructure for all future intellectual and emotional growth. In order for a child's brain to make these connections, parents need to speak, read to, and sing with their babies.
According to the results of the 2017 NAEP (National Assessment of Educational Progress—otherwise known as the Nation's Report Card), which tests a cross-section of fourth and eighth graders from public and private schools every two years, nearly two-thirds of fourth and eighth grade students do not read proficiently. That the United States is suffering a crisis of literacy is beyond dispute, but the good news is that our awareness of the problem is growing and people and organizations are finding creative ways to address it.
"..what's happening in St. Louis could be a blueprint for libraries and the medical community everywhere."
When I recently learned that the thing I'd wished for was actually happening in my former hometown, St. Louis, Missouri, through a program called Born to Read, I was intrigued and had to learn more. A few emails and a phone call later with Library Director Kristen Sorth, and I was convinced that what's happening in St. Louis could be a blueprint for libraries and the medical community everywhere.
In 2015 Ms. Sorth and her team of librarians and volunteers from the St. Louis County Library system, along with the support of a handful of local maternity hospitals, began reaching out to new parents with a gift that sends the message that babies and books belong together. Just two years later every single maternity hospital and clinic in St. Louis County were on board.
What inspired you to bring Born to Read to St. Louis County?
We brought this program to St. Louis County to help give families a head start. Studies show that when children start behind, they stay behind. The goal of Born to Read is to foster a love of reading starting at birth and to emphasize the importance of reading to children of even the youngest age.
That your program has grown to include every maternity hospital and clinic in St. Louis County—11 in all—since you began in 2015 is a tribute to your success. What, exactly, do the parents of each newborn in St. Louis County receive from the library?
 Each gift bag includes a board book, baby's first library card, early literacy information, a baseball Cardinals' beanie, and a voucher for two Cardinals' tickets, a toothbrush, and another board book.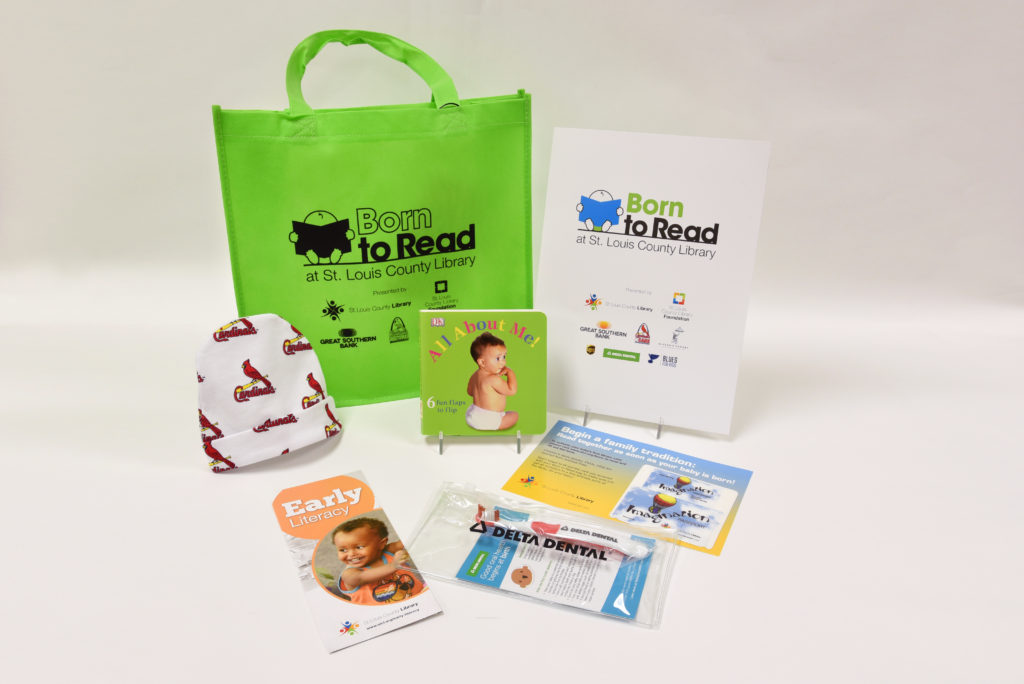 What do you hope each new parent gains from this gift?
 We developed the Born to Read program to reach families at the earliest possible moment. We want to convey the importance of reading and to make it easy for parents to introduce books into their daily routine.
Was gaining the support of the medical community challenging in any way? Is their support at all difficult to maintain?
 The hospitals think it's a wonderful program. The nurses love giving the bags to the families and encouraging them to read to their children. They know the materials in the bags are purposeful, and they hear great feedback from the families. Ensuring that the hospitals are stocked with enough bags so they never run out can sometimes be a challenge since the nurses and hospital staff are incredibly busy and can't always let us know right away when they are low. Our weekly visits help to keep them stocked.
Once the initial gift is given, do you follow up with parents later on?
 Parents and babies are invited to the library for a first birthday celebration. The Born to Read parties include story time, sensory play with bubbles and, of course, cake. Parents are also given another free book to take home. These parties are a great first introduction to parents, showing them the variety of resources available at the library.
We also stay in touch with parents via a monthly Early Literacy e–Newsletter, which provides early literacy tips, library event information, and other library resources.
Is Born to Read having an impact on the community? If so, how?
Every child born in St. Louis County now receives a library card, thanks to the Born to Read program. We're helping create a new generation of readers. To date, we've distributed almost 40,000 bags.
With the involvement of every area hospital and clinic you must need a lot of help. How do you accomplish the creation and distribution of all those gift bags?
Our Youth Services staff has done a fabulous job of maintaining the program. Every 6-8 weeks they have a Born to Read work day, where staff form an assembly line to stuff bags and package them for delivery. Each Friday we have a dedicated staff member who delivers bags to area hospitals and clinics. The program has been very popular among local volunteer groups as well. We have corporate and business groups that help stuff bags each month.
How is Born to Read funded?
 The St. Louis County Library Foundation helps raise funds for the program. We also have strong corporate support–-the St. Louis Cardinals and Delta Dental have been key supporters of the Born to Read program.
What is the program's biggest success?
Born to Read has provided a unique opportunity for the Library to reach new parents at the very beginning. Before they even leave the hospital, parents learn about the importance of reading to their baby. We make it easy for them to utilize library resources by providing them with a library card, and the book voucher gives them an incentive for visiting their local branch.
Does the St. Louis County Library provide any other means of educating new parents about the importance of reading to their child from birth?
St. Louis County Library has a variety of early literacy resources for families at every stage of development. Born to Read is the entry point for many families; after that they can sign up for the 1000 Books Before Kindergarten or attend weekly story time at a nearby branch. Later we offer Kindergarten Prep workshops and resources such as FLIP Kits (Family Literacy Involvement Program) and STEAM (Science, Technology, Engineering, the Arts, and Mathematics) programming.
With the enormous success you've experienced in linking society's primary stronghold of literacy—the library—with the medical community in order to reach new parents with this crucial message, do you expect to eventually see other communities follow your lead?
The Born to Read program has already been duplicated by St. Louis Public Library. Together, we're reaching families and promoting early literacy across the St. Louis region.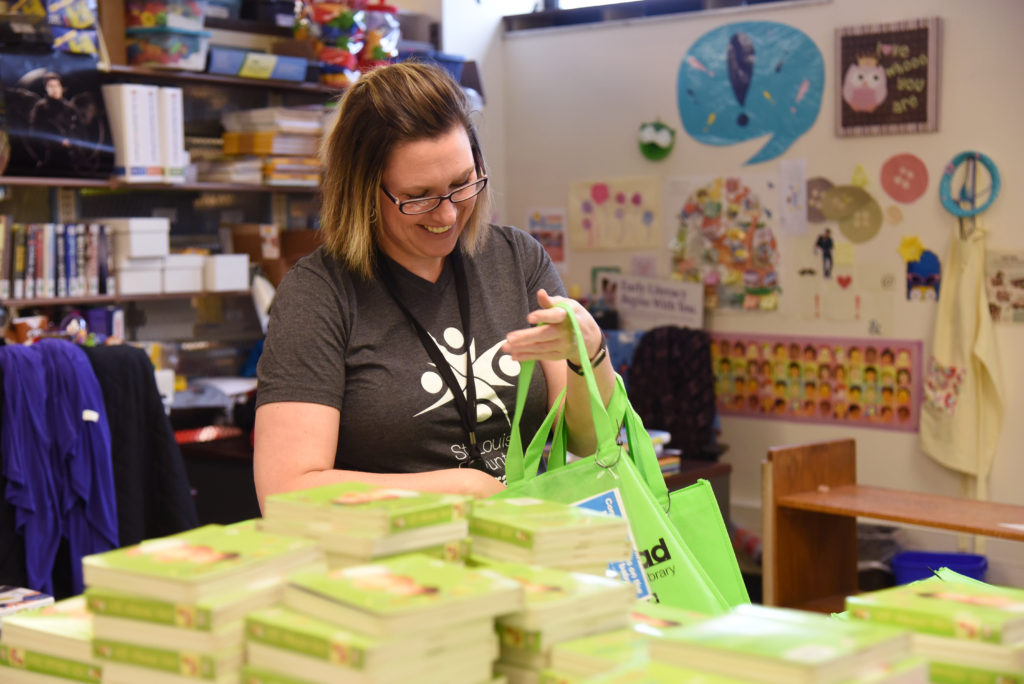 If you live in the St. Louis area and would like to become a volunteer with the Born to Read program, please contact the Youth Services Department at 314-994-3300.
Author's note: Born to Read is an American Library Association (ALA) trademarked program that encourages the connection between libraries and health providers. The St. Louis County Library's program is exceptional in both its implementation and scope.