The best learning podcasts are podcasts presented engagingly on topics that interest the listener. With over 900,000 active podcasts and 30 million episodes, you are bound to find something that may please you.
The convenience of smartphones changed the world of adults and children. No wonder smartphones have increased podcast usage by 157% since 2014. Over 60 million homes in America are podcasts fans, of which 22% listen every week to their favorite podcasts.
Most of the listeners enjoy podcasts in the comfort of their home; the second largest group are the ones listening in their cars or trucks. We've created a list of the best podcasts for learning you can enjoy at home, on road trips, at work, while exercising or taking a stroll; you can listen to a podcast anywhere. Why not spend that "wasted" time and learn something new?
11 Best Podcasts for Learning
Best for Popular History: Hardcore History
Dan Carlin's Hardcore History is the best podcast for learning about history. The HuffPost describes him as "America's best history teacher who doesn't work at a school." If you want to learn more about history while being entertained, then Hardcore History is a great podcast series for you and your children.
As a radio presenter, he learned how to engage people. His infatuation with military history and his ability to transform complex historical facts into an exciting narrative has made his podcasts very popular.
As a history major, he knows how to research and gather facts. Some critics may point to not agree with the accuracy of some facts, but Dan doesn't claim to be a professional historian; he loves history and likes to talk about it. His podcasts, however, are backed by research.
A new podcast series may take months of research before released. During episodes, you'll hear him quote from the books he had read. Before releasing the World Word 1 podcast episode, for example, he read 50 books about the topic. By listening to the podcasts, listeners benefit from his research without having to do the hard work of researching the topic.   
The history geeks will be glad to know that the podcasts aren't short 30 minutes episodes that barely touch on the subject. On average, a podcast length is about 3 hours, but some of his latest releases were 5 hours and longer.
Topics he addresses are the Punic Wars, the rise and fall of the Mongol Empire, World War, and much more. There are over 50 podcasts for listening, but don't expect a new release every month. Dan presents the new topic when he is satisfied with the research, which takes as long as it takes.  
The most recent episodes are free.  If you want access to the back catalog, you will need to pay a nominal fee.
Best for Family Debates: Smash Boom Best Podcasts
Smash Boom Best is a fun debate show for families where you'll find fascinating debates for everyone in the household. Two topics are ''smashed'' together as contestants passionately defend their argument with facts. Debate topics could be about anything and everything: Cheetahs versus Sloths; Pizza versus Tacos; Aliens versus Robots; Chocolate versus Cheese, or Unicorns versus Dragons. It all depends on what the listeners find the coolest of the two. 
The whole family may enjoy listening to the engaging debates on different, out of the ordinary, topics. Kids who listen to the show learn new facts while being entertained. It is also one of the best podcasts for learning how to debate an issue. Without realizing it, kids are armed with debating skills. So, parents beware, they may use their new debating techniques to convince you they need that new toy, to stay out later, or that it is a good idea to increase their pocket money.
Listeners decide which team is the best. They cast a vote on the website for which one of the two teams debated their matchup topics the best.
These family-friendly debate podcasts originate from the award-winning podcast Brains On. Those who join the Debate Club get access to a bonus episode. 
Best for School Psychologists: School Psyched Podcasts
School Psyched learning podcasts may interest school psychologists, teachers, parents, and students who are interested in psychology and the school education system.
The podcasts platform gives school psychologists nationwide a free and accessible medium for discussions, contributing ideas, and inspiring each other. Psychologists Rachael, Rebecca, and Eric present the podcasts bi-monthly. They discuss specific topics relevant to other school psychologists.
Each month they have phenomenal guests on the podcast shows that share their ideas and experience with the audience. School Psyched presenters encourage active participation from listeners via social media platforms like Facebook and Twitter.  
Their idea is to build a library of helpful resources school psychologists can use and apply to help their students. It began with Rachael asking peers to contribute useful resources that weren't already on the drive she created. The content is assessable on the School Psyched Podcast page under the heading Impressum.
Podcasts are broadcasted every first and third Sunday of the month at 8:00 pm EST. Podcasts vary from very short to over an hour in length discussing topics like Considerations for Specific Learning Disabilities, Ethics, Test and Standards, and Test Interpretation, and What are We Measuring?
Best For Effortless Teaching: ASCD Radio
The ASCD Learn Teach Lead Radio podcasts chat about themes that are relevant to educators today. They focus on topics that may affect the success of students. You'll find the best educational podcasts on poverty, equity, assessment strategies, principal and teacher leadership, student engagement, and best practices for professional learning.  
In presenting the podcasts, ASCD partnered with the world's largest all-education talk radio network, BAM! that reaches about 3 million users each month. ASCD Emerging Leader educators host the podcasts, featured guests like James Rickabaugh, and ASCD authors Carol Ann Tomlinson, Douglas Fisher and Nancy Frey, Regie Routman, Erik Francis, Jeffrey Benson, and other educators.
Podcasts are informative and short enough to listen while commuting to and from home to work. If you were wondering how to respond to school violence, what's the best management strategy for challenging students, or what are the 12 elements of a globally competent teacher, then ASCD podcasts may be the option for you as an educator.
Listeners may subscribe to the weekly learning podcasts.
Best for Inquisitive Minds: Revisionist History
Revisionist History podcasts go back in time to reinterpret history, focusing on what was overlooked or perhaps misunderstood. Malcolm Gladwell is a master at engaging an audience on topics you're typically not even be interested in.
In the four seasons of Revisionist History, listeners may enjoy 41 episodes of history, rabbit holes, and exploring challenging questions. Gladwell creates a safe environment for these intricate discussions, and then he gives the audience some breathing space by intermingling related, lighthearted topics before he delves back into the intricacies. His execution brilliance lies in bringing all these topics that seem unrelated together to weave an exciting narrative.  
If you want to understand the world around you by delving into the past and exploring ideas, events, and people, then Revisionist History podcasts series, presented New York bestseller Malcolm Gladwell and Puskin Industries, could be the podcasts you were looking for.
Best for General How-To: Stuff You Should Know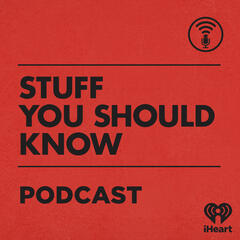 Stuff You Should Know (SYSK) learning podcasts teaches teens and adults about general things and how it works. Their latest releases in March 2020 include interesting topics like Virus Talk ("Viruses are big jerks that invade regular cells," How grass works (Why Americans are obsessed with perfect lawns), and How Terraforming Will work if humans live on other planets. For soda drinkers, pinball players, and King Arthur fans, there are some interesting podcasts for learning about those topics.
The podcasts vary from 30 to 60 minutes and presented in a manner that is easy to grasp and to remember. So, within an hour, you learn something exciting and new that you can apply. The next time conversation isn't flowing fluently, or you want to impress someone, you'll have some new material to entertain and amaze your audience.  
With over 1000 archived episodes, your teens may be entertained for a long while. Although many topics are suitable for younger kids, parents should use their discretion; adult topics like war, alcohol, and politics are also discussed.
SYSK was created by Josh Clark and Chuck Bryant from the award-winning HowStuffWorks and is now part of iHeartRadio, where listeners can learn and listen to the podcasts for free.
Best for Self-Actualized Happiness: Happiness Podcast
With over 8 million downloads globally, the Happiness Podcast focuses on helping individuals find happiness in several ways. The episodes address a variety of topics to help people cope with emotions and teach them how to create a peaceful environment.
The presenter of the podcast is the internationally recognized psychologist Dr. Robert Puff who takes a holistic therapy approach. He is a published author of 13 books, a Psychology Today blogger, a TV show host, and a corporate trainer. He has studied for decades how humans can reach their highest level of achievement.
According to Dr. Puff, happiness does not happen by chance, which means individuals can take specific action steps to create their happiness. His weekly podcasts explore being tired, needing help, and other concerns people may have. He also talks about emotions individuals struggle with like depression, anxiety, fear, or feeling overwhelmed and how to cope.   
The latest podcast discusses topics like facing fear, pursuing happiness and maintaining happiness skills, how to relax and be free, and answer three questions when you feel overwhelmed.
Best for Curious Kids: But Why Podcasts
If you have a curious kid that doesn't stop with the "why" questions, the But Why podcasts may be a great alternative to answering those never-ending questions. It's a show for kids and led by what kids deem interesting. The podcasts' content is the answers to those questions young listeners are asking.
Instead of being bombarded by why, why, why, record your child's question using an audio app or your smartphone's memo function. Then email the recording with your child's name, age, and town to questions@butwhykids.org.
Hosted by Jane Lindholm, the But Why bi-weekly podcasts answer these noteworthy questions. They group the topic-related questions and tackle any appropriate subject matter about nature, words, and the world. Kids have the knack to ask a simple question that requires an intricate answer; the podcasts use experts to explain these problematic answers in easy-to-understand ways.
The latest podcasts teach kids about the corona virus and the science of soap. Other topics curious kids asked about was impeachment; do animals get married; why lions roar; why some words are wrong; and why ice is slippery.  
Best for Space and Science: StarTalk Podcast
StarTalk Radio is one of the best podcasts for learning about space and science in a fun way. Your host is the famous astrophysicist Neil deGrasse Tyson who is also the director of the Hayden Planetarium at the American Museum of Natural History in New York City. His co-host is the comic Chuck Nice to lighten up complicated issues. They have a winning combination of combining science, pop culture, and comedy, which makes the topics digestible to everyone interested, even novices.
Some of the recent podcasts are Rise of the Robots with robot ethicists Kate Darling and Star Wars actor Anthony Daniels where they talk about the difference between robots and androids. Until the End of Time with theoretical physicist and author Brian Greene, they answer questions about interstellar travel, the meaning of life, and the fabric of spacetime.
A surprise for sports fans! Some podcasts episodes discuss sports topics. In the interview with MLB legend Carlos Beltran, for example, they chat about his first experiences, his phenomenal career, and about life after baseball.
You can listen to the podcast episodes Friday nights at 7 pm ET.
Best for Avid Readers in Middle School: Book Club for Kids
Book Club for Kids podcast is for kids who like to read books. The podcasts feature three middle schoolers talking about a specific book with host Kitty Felde. Kitte Felde is an award-winning public radio journalist. She's won Golden Mike Awards, ABA Silver Gavel Awards, and AP Awards.
The episodes include an interview with the author of the book being discussed and a celebrity reading. Previous episodes include books and authors like "I live on Butterfly Hill" by Marjorie Agosin; "The Crossover" by Kwame Alexander; The Strange Case of Origami Yoda by Tom Angleberger; and "The Wild Robot" by Peter Brown. Some of the celebrity readers on the podcast episodes were actors Michael Paul Chan form The Closer, Mimi Kennedy in Mom, Joshua Malina in The West Wing, and John Michael Higgins in Pitch Perfect.
Kids can be part of the podcast; they don't even have to leave home. All they need to do is send an audio file to bookclubforkidspodcast@gmail.com with their name, city, their favorite book, and why they liked the book. They can record the audio file using the memo app on a smartphone.
The Book Club for Kids podcast has received the DC Mayor's Award for Excellence in Humanities, the Californian Library Association's Technology Professional Award, and was named by The Times, London on "Top 10 Podcasts for Children" in the world.
Every second-week, listeners receive a reading tip through email. These tips come from experts, librarians, parents, and teachers.
Best for Ideas and Inspiration: TED Talks Daily
TED Talks Daily are free podcasts that are a combination of the best educational, most thought-provoking, and introduction to new ideas and concepts. Whatever you want to know, you'll probably find a podcast episode discussing it.
The subject matter ancient worlds, for example, have 24 talks ranging from ancient ruins, where camels really come from, blind cavefish, to Peru's lost civilizations. There are talks on oceans, friendships, infrastructure, health, Mars, nanoscale, youth, marketing; you can run through the alphabet, and there will probably be multiple episodes on a topic.
You can listen to leading thinkers and doers in the world every day of the week, sharing their experiences and expertise. Some of the recent episodes include Bill Gates talking about how we should respond to COVID-19, and Susan David speaking about being your best self during a crisis.
If you want to learn something new, explore and broaden your horizons, and am prepared to change your perceptions, then these podcasts could stimulate your mind daily.
TED Recommends personalizes your listening experience. Listeners may choose the categories that interest them. Then they will receive in their inbox recommendations based on their preferences. Now you don't have to scroll to search for something valuable to listen to. You're also not exposed to topics that don't interest you.