Toy trucks are a perennial favorite with kids of all ages and even big kids are happy to get down on the floor and play with toy monster trucks. For younger kids, a toy truck is an ideal first toy. Pushing a truck around helps kids to fine-tune their motor skills, and as a child grows, a toy truck will help spark imaginative play as they push it around in the dirt.
Kids can play with toy monster trucks outdoors in the yard, or indoors in their bedroom. And the more toy trucks they own, the more fun they can have – especially when friends come over to play! These trucks are miniature versions of the monster trucks seen at car shows, so any monster truck fan will be delighted to receive a replica vehicle as a gift. So to help you choose the very best vehicle from a large selection of toy monster trucks, read on for our recommendations.
The Best Toy Monster Trucks for Kids
Hot Wheels Monster Jam Mohawk Warrior

Check price at

Hot Wheels Monster Jam Grave Digger

Check price at

LEGO Technic Monster Truck

Check price at

Toysmith Monster Bus

Most Popular

Lowest Price

Check price at

Fisher-Price Nickelodeon Blaze and the Monster Machines Crusher

Check price at

Hot Wheels Monster Jam El Toro Loco Yellow

Check price at

Hot Wheels Monster Jam Zombie Die-Cast Vehicle

Check price at

MAPIXO Light Up Monster Truck Set

Check price at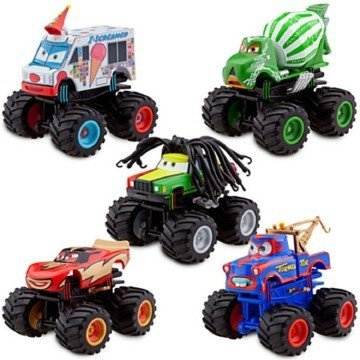 The Disney Deluxe Monster Truck Mater figure set includes all your favorite Cars movie characters: Tormentor, Paddy O'Concrete, Frightening McClean, Rastacarian and I Screamer. These toy monster trucks are made of plastic and are suitable for kids aged 3 years plus.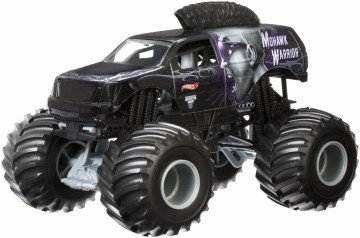 Hot Wheels are one of the most popular toy car brands, so kids will love the Monster Jam Mohawk Warrior toy truck. The toy is made from die-cast metal and is a 1:24 scale model of the real thing, complete with authentic paintwork. It is the perfect truck for playing a crash 'em derby on hard floors or carpets.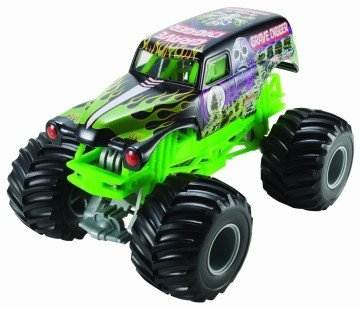 The Monster Jam Grave Digger is another popular character in the Hot Wheels toy monster trucks range. Like the other characters, the Grave Digger monster truck is a 1:24 replica of the larger than life real Grave Digger, plus it has the same lurid purple and green paintwork. The body is made from die-cast metal and the under-chassis durable plastic. It's a great toddler toy!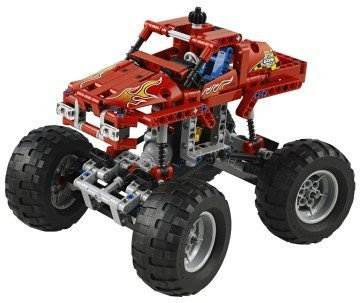 Where creativity meets high-power machinery, the LEGO Technic 42005 Monster Truck is the ultimate of the toy monster trucks for kids who love to build. This 2-in-1 model can also be rebuilt as a monster dune buggy with rear suspension, steering and moveable rear spoiler.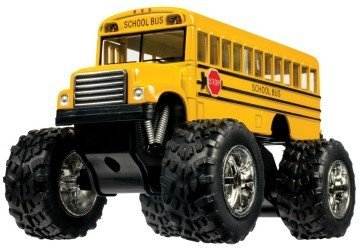 The Toysmith Monster Bus is a larger than life bus toy with super cool monster wheels. The sturdy die-cast metal frame is tough enough to withstand even the most excitable child. To unleash this monster bus, your child just has to pull it back and let it go. It's a fabulous toy for kids aged 5 years and above.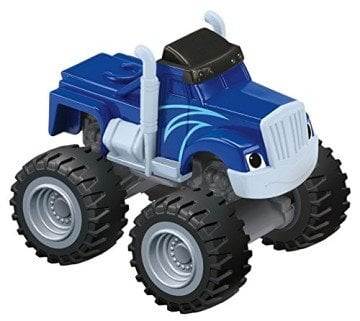 If you are looking for a monster truck with monster wheels, look no further! The Fisher-Price Nickelodeon Blaze and Monster Machines Crusher are ideal for recreating scenes from your child's favorite TV show. Made from die-cast metal, these toy monster trucks are rough and tough enough to cope with hard-core play.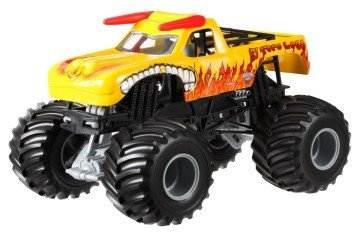 The Hot Wheels Monster Jam El Toro Loco is decorated just like the original monster El Toro Loco truck. Your child can throw this toy around, drop it, and put it through all kinds of trials and it will still work thanks to a durable die-cast metal construction. It's the perfect toy for little boys.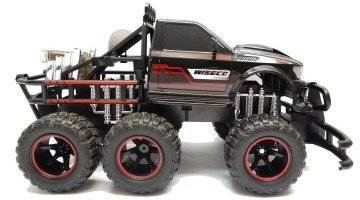 Monster truck fans will love the FMTStore RC 6×6 off-road all-terrain electric monster truck with its working headlights and fully functioning steering controls. This really is a super-deluxe monster truck for kids aged 8 years and above.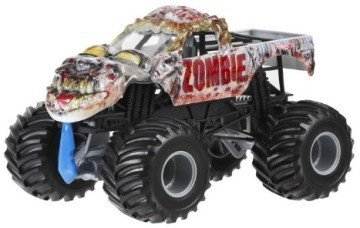 The Hot Wheels Monster Jam Zombie truck is made from die-cast metal and is decorated just like the original. It's the perfect size for small hands, so if your little boy loves toy monster trucks, he'll adore this Zombie Monster Jam toy. He can take it outdoors, or play with it indoors. Either way, he's guaranteed hours of fun.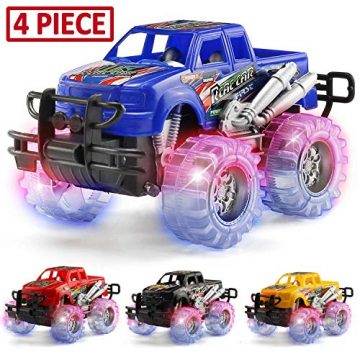 The push-n-go MAPIXO Light Up Monster Truck is a set of four vehicles with flashing LED wheels. Transparent monster wheels light up in multi colors that will delight any 3-year old.  
The set consists of four vehicles, a red, black, yellow, and blue. Different colors teach toddlers about colors and help them to identify their favorite toy. No mix-ups either when siblings play together.  
It's made of 100% safe, non-toxic plastic with reinforcement to the wheels and body. Batteries for the LED lights are replaceable.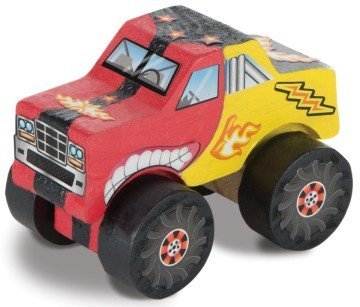 The Melissa and Doug DYO Monster Truck is ideal for kids that are more creative because they get to build their own monster truck from scratch! The set comes with everything a child needs to build a truck, including wooden pieces, paint, and glue. The toy is easy to assemble and perfect for a craft project or party activity.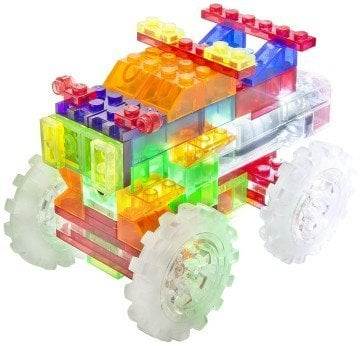 The Laser Pegs 6-in-1 monster truck building set contains everything your child needs to construct a toy monster truck. There are 66 tinted construction bricks, a Zippy Do power base, batteries and an instruction manual. The set is also compatible with other major construction sets.
The Hot Wheels 5 Alarm Monster Truck is built for head-on collisions. Toddlers will love smashing other vehicles with these giant wheels.  
A truck is about 5-inch-tall, and the ladder of the fire truck moves up and down. The toy truck is designed for rough play and may withstand all crash attacks indoors and outside. It's easy to clean no matter what it ran over.  
The 5 Alarm Hot Wheels truck is part of a set. Included in the purchase is a chart of all the vehicles in the series.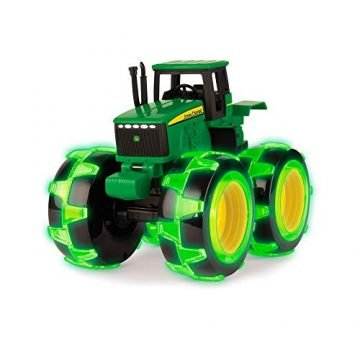 The Ertl John Deere Tractor has four oversized green wheels that light up. Officially licensed by John Deere, the tractor is a large 9 x 6 x 8 inches Monster Tread with recognizable characteristics of a John Deere tractor.  
It's perfect for tackling off-road obstacles any 3-year old can find indoors or outdoors. Forward and backward motion activates the light-up wheels — the LED glow bright green. Three AAA batteries are included.  
Feature image courtesy of Flickr, Neticola.