Get little ones moving with a classic toy that everyone loves – a fun trike! Whether your little one is just ready to start scooting around the house or is looking for big adventures out and about the neighborhood, there is a trike to fit. There are a few things to consider when choosing the perfect tricycle though:
First, it should be appropriate for your child's age and size. Just like the best telescope for kids is different depending on the age of your kid, so it is with three-wheelers for kids. Many trikes offer 'grow with me' options and can be adjusted as your child grows.
Second, decide whether your child is ready to ride on his or her own, or still requires help from a parent. A few trikes on this list start with help from a parent but allow your child to become independent later on.
Finally, decide where your little one will ride. There are trikes that work indoors, outdoors or both, and some are lightweight and packable for little travelers.
Need ideas? Balance bikes and ride-on toys are other good options, but if it's a trike you're after, here are nine of the best!
Toddler Trike Options
Schwinn Roadster 12-Inch Trike

Most Popular

Check price at

Little Tikes 5-in-1 Deluxe Ride & Relax, Reclining Trike

Check price at

Radio Flyer Classic Tricycle with Push Handle

Check price at

Little Tikes Go and Grow Lil' Rollin' Giraffe Ride-on

Lowest Price

Check price at

Little Tikes Learn to Pedal 3-in-1 Trike Ride On

Check price at

Fisher-Price Barbie Lights and Sounds Trike

Check price at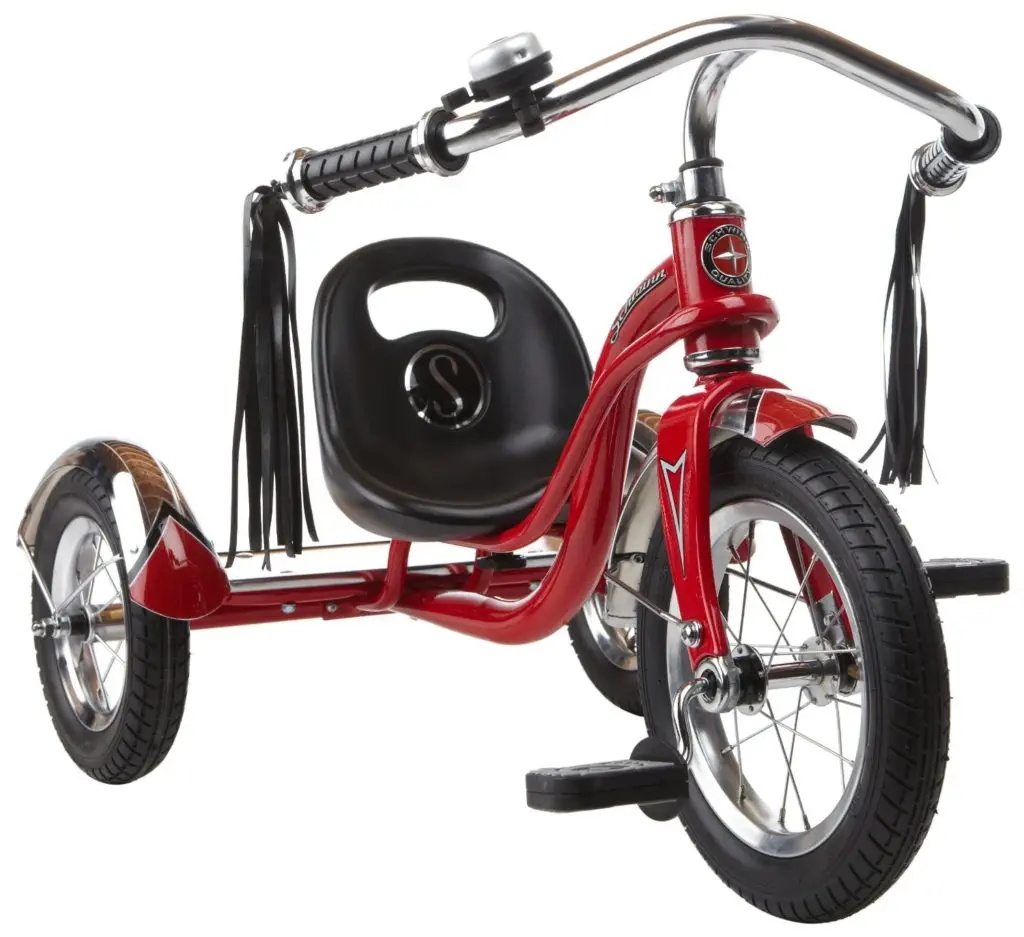 The sharp looking Schwinn Roadster offers a classic look and feel with lots of cool, modern design features. From a respected manufacturer of bicycles and pedal vehicles, this retro frame tricycle will stand out cruising in the driveway or down the sidewalk. The Schwinn Roadster has a full-steel, heavy-duty frame that will stand up to years of use. The wide design and extra-low center of gravity prevent tip overs. Additionally, it has scalloped fenders, cool Schwinn logos, tassels, and a bell. The comfortable sculpted seat is adjustable for growing kids and there is even a wooden deck for a passenger.
Ages: 18 months – 5 years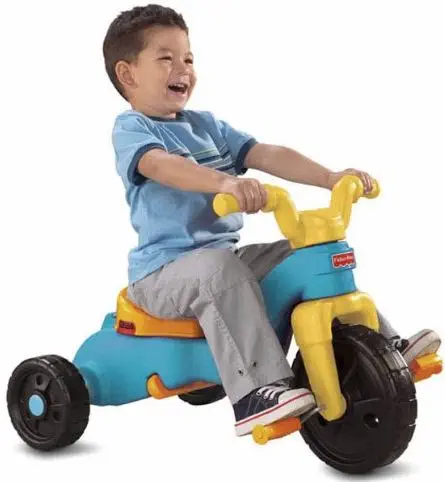 The Fisher-Price Rock, Roll 'n Ride Trike is so much more than just a tricycle. Unlike other, more traditional trikes, the Rock, Roll'n Ride is an active toy for kids as young as 18 months and up to five years old. It features three 'grow with me' stages. First, lock it into the base and little ones can use it as a stable, stationary rocker. Next, the rocker base converts to a push-along handle so that parents can help young ones along. Finally, remove the handle, adjust the seat, and fold up the footrest. Kids can now pedal independently. Conversion to each stage is simple and requires no tools.
Ages: 18 months – 5 years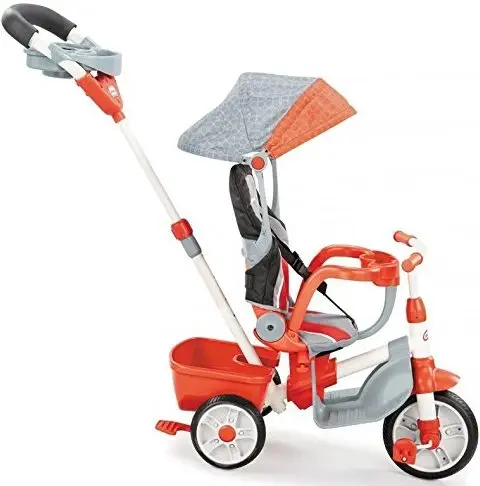 The Little Tikes 5-in-1 Deluxe Ride & Relax Tricycle is a deluxe tricycle that grows with your child and is perfect for all of those exciting outdoor adventures. Start using it around nine months old and continue as your little grows well into their toddler stage. First, it works as a stroller and the parent is completely in control. Second, there is a reclining mode with three positions. Third, little ones begin to pedal but you still have control over the steering. Fourth, toddlers begin to pedal and steer with assistance from a parent. Finally, the push bar is removed and kids are off on their own. This little tricycle is comfortable and safe and has a convenient sun shade and even a holder for snacks or a drink.
Ages: 9 months – 4 years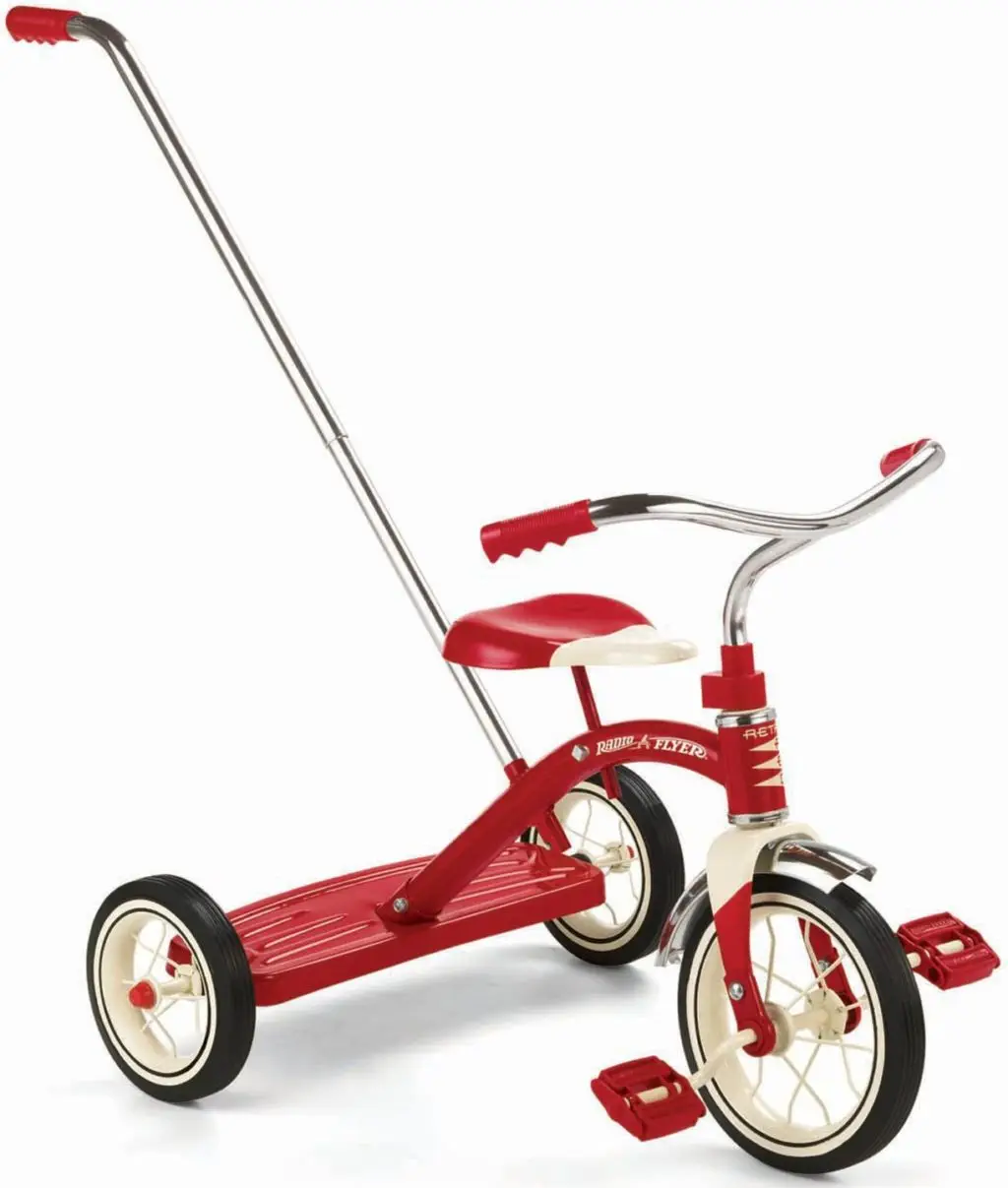 The Radio Flyer Classic Tricycle with Push Handle is the familiar red tricycle that many of us know and love, with a few updates. It still has the classic features like durable steel construction, spoked wheels, chrome handlebar and fenders, a 10-inch front wheel, and all rubber tires. It also has an adjustable and removable push handle and a limited turning radius that adds safety and stability. Ride in style on this bright red classic.
Ages: 2 – 4 years
An adorable scoot along trike, the Little Tikes Go and Grow Lil' Rollin' Giraffe Ride-on is a great little toddler trike. Perfect for indoor play but sturdy enough for outdoor use, the delightful giraffe will have our little one smiling and moving. Designed with two front wheels and an oversized back wheel, this tricycle is particularly stable. This toy's safety and durability have impressed reviewers. Some very basic assembly is required.
Ages: 1 – 3 years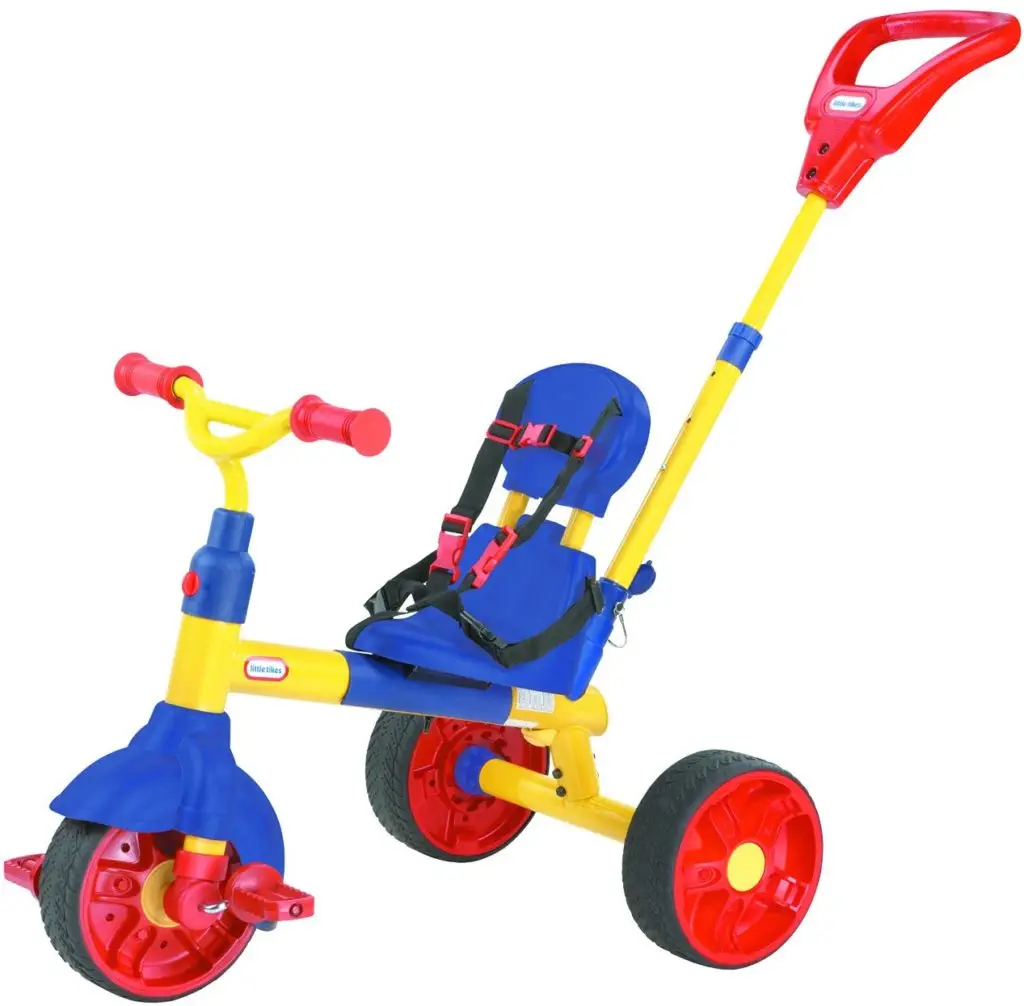 The Little Tikes Learn to Pedal 3-in-1 Trike Ride On features three stages of ride-on fun: guided, learning, and independent. Children start being pushed by their parent, then begin to pedal with some assistance, and finally, they can pedal and steer all on their own. The seat is adjustable for growing kids and features a safety harness for added safety and security. The durable, quiet ride tires are good for indoor or outdoor use.
Ages: 18 months – 3 years
Little fans of Barbie will absolutely love the Fisher-Price Barbie Lights and Sounds Trike. It's designed with bright, fun colors and Barbie themed details and accents. The seat is adjustable to accommodate a growing child and it also has durable tires, easy-grip handlebars, and no-slip grips on the pedals. The oversize front wheel is great for fast pedaling and the wide wheel base adds stability. Activate the working signal lights and lots of fun Barbie themed phrases and sounds. It's also available in a fun Batman theme!
Ages: 2 – 6 years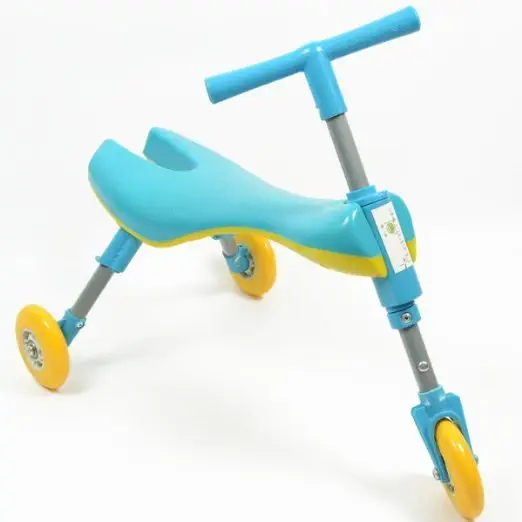 The Bugatrike Toddler Foldable Trike is perfect for travel and adventures, but it still a great tricycle to use around the house. It's extremely lightweight and folds up for convenient portability. It's designed for children one to three years and holds up to 44 pounds. It doesn't have pedals and little ones use their feet to scoot around. Reviewers love it because it requires no assembly and is ready to use right out of the box. Additionally, they appreciate the ability to pack it up and take it nearly anywhere without any hassle.
Ages: 1 – 3 years
The Radio Flyer Fold 2 Go Trike is another foldable tricycle but gives riders the ability to pedal, rather than just scoot along. From Radio Flyer, a favorite brand name for quality, classic wagons and ride-ons, the fold 2 go has lots of convenient features. It's lightweight and folds up for easy storage and portability. It has a low center of gravity and controlled turning radius for stability, a safety latch for security during use, and has streamers and little storage bin to take small items on big adventures. A carrying handle on the seat provides even more convenience. Made from sturdy steel, this tricycle come fully assembled and ready to play.
Ages: 18 months – 3 years
We love to hear from you! Tell us about your favorite trikes and ride-ons in the comments below.
Feature image courtesy of Flickr, Ella Mullins.