It's a normal occurrence to enter a classroom and find each student working diligently on an iPad or other tablet device. An iPad cart or tablet cart is a convenient way for schools to safely and conveniently store and charge all of those devices. iPad carts vary in capacity and features, but most lock to keep tablets secure, are ventilated to prevent overheating when charging, and have wheels or casters so that the entire cart and all of the devices can be moved from classroom to classroom.
There has been some consolidation in this market in the past few years. Brand names such as Line Leader, Luxor and Learniture have continued to innovate. ECR4Kids has a popular cart as well. No matter what the brand, there are some features you'll want to look for when shopping. Convenient cord organization systems are a nice addition and some carts have cool features like card reading locks and access from both the front and back.
See also: Our Best Chromebook Carts and Laptop Charging Stations
Best iPad Cart Options for Schools
Line Leader Tablet Charging Cart

Check price at

ECR4Kids 30-Bay Locking Tablet Charging Station Cart

Check price at

LineLeader 16 Portable Cart

Lowest Price

Check price at

Luxor Mobile Home Office Tablet Charging Station

Check price at

LUXOR Tablet Computer Charging Station

Most Popular

Check price at

Learniture Extra-Wide 24 Charging Cart

Check price at

Sandusky Mobile Tablet Storage Cart

Check price at
The Line Leader 30 Tablet Charging Cart conveniently and securely stores, charges , and transports iPads and tablets from classroom to classroom. It can store and charge up to 30 iPads and yet it takes up relatively little space. It has doors that open on both the front and back of the cart so it's easy to access your iPads in tight situations. Four-inch rolling casters and a sturdy handle make moving the cart easy. Each door locks to keep tablets secure.
This cart is passively cooled through the numerous holes on each metal side. The metal also conducts heat so your tablets should be safe from overheating while charging.
The ECR4Kids Cart is one of the most secure iPad carts available. It stores and charges up to 30 iPads, tablets, or Chromebooks and even has room for tablets with cases. It has adequate ventilation to keep tablets cool while charging, sturdy wheels that can be locked, and a comfortable handle for moving the cart. The interior features rubber-coated dividers to minimize the wear and tear on your iPads when placing and removing them from storage. It also allows the cart to be useful long-term, as it can be altered to accommodate tablets and devices as technology changes. The most notable feature of this iPad cart is the digital keypad locking system that will keep your school's tablets safe from theft or any unwanted access.
The Line Leader 16 Portable Cart is a convenient iPad cart for smaller classrooms. It's a small tablet cart, but it has some highly desirable features, especially for classrooms with smaller student numbers. Standard features include space for safe storage and charging of up to 16 iPads, a locking door, proper ventilation, and wheels that make it easy to move. There is a power strip inside which can handle all 16 iPads or Chromebooks at once.
The top of the cart is the perfect size to fit a laptop to work on in front of the class. This isn't the largest cart, but it's easy to steer and works great for the right classroom.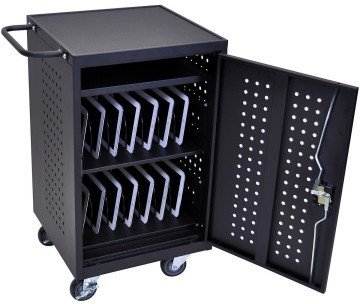 It says it's for the "home office", but the Luxor Mobile Home Office Tablet Charging Station is a great tablet cart for schools. It features two shelves that fit 15 iPads or other devices each, for a total of 30 tablets stored and charged simultaneously. Shelf space is 11″ high and 15″ deep and will easily fit a variety of different tablets. Each tablet has a one inch wide space that makes it easy to remove and replace tablets safely, without bumping the other stored tablets. Rubber dividers between tablets offer another layer of safety. The interior has two 16 outlet power strips for charging and interior clips to help keep cords organized. This iPad cart is well ventilated, easy to move, locks securely, and has a padded top.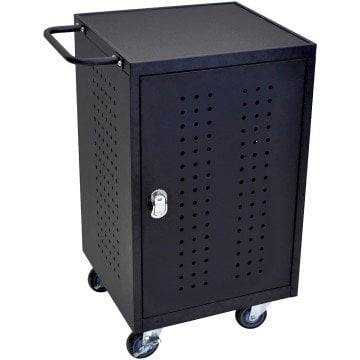 The LUXOR Tablet Computer Charging Station is a similar storage station to the Luxor iPad cart above, but has the addition of an innovative lock that uses a key card instead of a traditional key. The lock is simple and easy to use; just swipe your card in front of the locking mechanism and the door unlocks! This cart stores and charges 30 iPads or other tablet devices, has plenty of ventilation, rubber coated dividers, a padded top, and casters and a handle that make it easy to move.
The Learniture Extra-Wide Charging Storage Cart and Workstation is a sturdy iPad charging cart, constructed of steel with a ventilated metal back panel. Seven shelves hold three computing devices each, placed flat on each shelf, for a total of 24 iPads, tablets or other devices. Two front doors allow for easy access to tablets and the back has a small locking door to access the electrical assembly. Interior clips keep charging cords neat and organized. This cart rolls on five inch casters (two locking).
The large work area on top of this cart would come in handy if you need to wheel from classroom to classroom. It is wider than most carts, so make sure you have the space to maneuver this charger on your daily rounds.
The Sandusky Mobile Tablet Storage Cart stores a lot of iPads: up to 40! It's downfall is that it's doesn't come set up for charging all of those tablets. But, it has a convenient back door that would easily facilitate the addition of power strips for charging. The bottom shelf doesn't have dividers and isn't set up for storing tablets, so it would be a perfect place to set up charging stations. It is well ventilated to allow for proper air flow when charging. All three shelves are adjustable and have anti-skid mats installed to prevent devices from sliding around, and the top of the cart has an anti-skid surface as well. Heavy duty casters and no chip, anti-corrosion white powder coated finish make this a sturdy, practical option.
An iPad cart provides a safe and convenient place to store and charge iPads, tablets, and other devices for classroom use. Do you use an Apple iPad cart in your classroom? Tell us about in the comments below!
Feature image courtesy of Flickr, Janitors.