A parent may limit a child's screen time, but it is almost impossible to keep them completely away from modern technology. Your child may utilize their screen time productively by engaging with the best learning apps – or not so productively spending hours on social media and in front of the television. The right decision is important – with the right app they can learn to play piano or just find out more about the world around them.  It could give them a head start in class, which may build their confidence and inspires them to learn new skills.
You should find the top learning app for kids on your preferred devices, whether it is an iPhone, iPad, iPod Touch, or Android apps on Google Play. We've compiled a list of the best math, coding, science, phonics, and other educational apps that are fun but educational at the same time.
Buzzmath -One of the best learning apps for kids for math
Buzzmath is an exciting historical math adventure app for kids where children help Alfred rebuild Mathlantis, a city built on mathematical equations. A unique storyline explains how math concepts were eliminated, which reduced the city to chaos, and its inhabitants forgot all the information they had about numbers, word problems, and other math equations.  
Kids collect stars and unlock badges as they complete the interactive actions. Their goal is to go back in time and help famous mathematicians of the last 2000 years, retrieve their knowledge. It is one of the best educational apps with over 7,000 activities designed form Common Core State Standards.
Automated corrections and detailed solutions save teachers time. The curriculum is ideal for homeschoolers to follow, and students may benefit from the real-time progress tracking and targeted activities with on-demand examples.
Buzzmath is subscription-based, which means it is frequently updated.
Elephant Learning Math Academy - A Great educational app for kids
The Elephant Learning Math Academy promises that your child will learn a year of math within three months, spending 30 minutes per week. They use the latest scientific research in math education that kids encounter as a puzzle game.
It is one of the best learning apps where the activities adapt to the student's level, which reinforces and accelerates their learning. At a subscription fee of $35/month, parents can subscribe up to seven children between the ages of 2-16-year-old.
The automated math academy educational app for kids is available on iPhone, iPad, and iPod touch. One of the best features is the tips for parents on how to integrate the lessons into daily life so that the application of numbers make more sense to your children.  
CoolMath4Kids is like a math amusement park packed with math games, quizzes, brainteasers, and much more. It is free to use and focused on children 12 years old and younger.
The Coolmath.com website, however, offers math content for all ages from 13 years to 100-year-old math enthusiasts. Those who enjoy logic puzzles should visit the CoolmathGames brain-training site, which focuses on logic thinking games. All games are kids-friendly with no violence or pointless actions. Each challenge is a mental workout without you realizing it because you're having so much fun.
There are over 20 of the best online learning math games for kids to choose from that entertains while they learn.  The Island Chase game, for example, is a multiplayer game consisting of a jet ski race with simple subtraction. Demolition Division is a single-player game where the player uses division math to destroy the enemy tanks and defend their base.
Kids can search for games by topic or according to their grade level ranging from Kindergarten to sixth grade.   
DragonBox - A Good learning app for kids learning Math
Who knew learning math could be so much fun! The multiple award-winning DragonBox series teaches kids the math fundamentals in an adventurous, entertaining way. The well-designed app may give your kids a head-start in math without them knowing it. If they do realize they are doing mathematics, they won't mind the Algebra lessons with the amusing Nooms.
Each Noom has its characteristics and represents a number between 1 and 10. Nooms are digitally manipulatives. Their mathematical properties are activated when kids stack, slice to subtract, combine for addition, or compare the different sizes of Nooms.
Kids learn number sense by responding to the audio sound effects and interactive gameplay. The main activities are puzzles where kids need to create Nooms that fit in the puzzle pieces. Each app focuses on understanding how numbers work; kids intuitively understand numbers without needing to memorize it.  
Kids aged 4-9 years may learn math skills with the help of these four apps:
DragonBox Numbers teaches what numbers are and how they work. Four activities engage kids to learn fluidity and flexibility of numbers.
DragonBox Big Numbers teaches kids long addition and subtraction. With over 4000 operations, kids can unlock new worlds, gather, and trade in this appealing game.
DragonBox Algebra 5+ teaches five-year-old kids the process of solving basic linear equations.
DragonBox Magnus Kingdom of chess teaches the fundamentals of chess with world chess champion Magnus Carlsen.
The two apps for kids from 9 years old take math to the next level:
DragonBox Algebra 12+ has more advanced algebra and math topics for kids who have mastered the basics in Algebra 5+.
DragonBox Elements inspire kids to learn geometry shapes to help save Euclid's Island.
The apps vary in price ranging from $5-$10.
Freckle is a free practice app that distinguishes each student's math experience. After the student's mathematic skill level is assessed with a pretest, the app starts the student at a Common Core standard. The difficulty levels of a math lesson adapt accordingly to reach the kid at their level.
When the student logs in for the first time, they need to complete a pretest that determines the student's math level the kid is. As the kid proceeds through the test, it adapts the question to the student's math skills. For struggling students, the math test questions become easier, and for advanced-level kids, the questions become more challenging.
The app provides independent practice to kids. With over 50,000 questions, kids solve algorithms, multiplication word problems, and other math problems using manipulatives.
The Math and English educational apps for kids are free for students and teachers. Other subjects are more comprehensive with the premium version.
The Top Coding/Computer Science Contenders For Best Learning Apps For Kids
Move The Turtle - The Best Coding App For The IPad
Available for iPhone, iPad, and iPod Touch only, Move the Turtle teaches kids the basics of coding. A cute turtle guides kids through the lessons in a colorful environment. Children progress to the next chapter by earning stars as they learn new skills.  
Kids as young as 5-year-old may learn how to plan complex movements composed of simple basics, how to reuse completed work, and how to use graphics, spatial orientating, and sound in programming. Before you know it, your child is familiar with the notions of loops, variables, procedures, and conditional instructions, which will not only help them with coding language but with mathematics too.
The app costs about $3.99, with no in-app purchases. The app is currently not available in Google play. Move the Turtle app received the Parent's Choice Award, Gold Medal. Preschools and schools use the app, creating a safe environment to teach kids problem solving skills and basic programming commands.
Dodoo Adventure Kids Coding App - Appropriate For Preschool Coding Learning
Dodoo Adventures is a coding game for kids and toddlers that's available on Google Play and the Apple app store for iPhone and iPad. By solving logic puzzles, preschoolers learn the basics of coding.
The game entails moving a train or other Dodoo vehicles along a path to a treasure by using the directional arrows. The object is to avoid the obstacles placed in the path using programming blocks. Kids learn in practical ways how to plan in coding. They add the arrow keys to the top, planning out the train's route to the treasure. Then they tap the train to start the journey according to their code.
If the directions are incorrect, the train is led astray, and they need to fix it. As their programming skills improved, various obstacles are placed in the path they must overcome.
Dodoo Adventure is a great educational kids app. The train theme is free and includes 20 levels. Replay value is limited, but there are additional settings and vehicles available with the in-app purchases.
Grasshopper Learn to Code - Ideal To Get Kid's Introduced To Coding
Grasshopper is a free coding app for beginners teaching kids to write JavaScript. Start your youngster off coding something useful like flags rather than the traditional "Hello World" or other boring items. It is one of the best educational apps for kids to learn fundamental programming skills by playing visual games.
Novices who have no idea about coding or computer science can confidently start coding in JavaScript with a few taps on their smartphone. Real-time feedback guides them and leads them as they learn to code. As your child progresses, they collect achievements and trophies to celebrate their learning journey.
There are no reasons why young kids can't learn to code. Novices would, however, be more comfortable in using the app if they have mastered math up to multiplication. Common Sense Media recommends kids from 8 years, and older would benefit most from the app.
Swift Playgrounds - Gamification For Motivating Young Coders
Developed by Apple, Swift Playgrounds teaches kids how to code using the same code professional app developers use. The coding app is one of the best free kid learning games where kids learn to code by completing puzzles, conquering levels, and accomplishing goals. Your teenager can learn to program in Swift in one of the most innovative apps in a long time.
The Apple-designed lessons start with the fundamentals of the language Swift where kids need to code a character through a 3D world. Swift is a functional coding language; it's the language Apple and pros use to build apps. 
Children (and adults) may forget they are learning to program with the great graphics, clear instructions, and fun puzzles the app offers. On your Mac or iPad keyboard, the QuickType for code is a shortcut bar that automatically suggests commands as you type.
The open-world experience provides greater freedom of exploring and coding opportunities than most coding apps offer. Swift Playgrounds is only available for iOS 12.0 and higher. Kids 12 years and older may benefit the most from this coding app for kids.
Swift Playgrounds is one of the best educational apps for teens with fun entertainment content that may help them for school projects and possible career opportunities.   
Our Picks for The Top Learning Apps In Science
Tappity K-5 Science for Kids - Best STEM App for children
Tappity is one of the best STEM science apps for elementary school, where kids have the freedom to be curious. They have full control of what they want to explore next. Who knows, it may even spark new interests in your child.  
Your kid learns by running virtual experiments. They get to instruct Hayley on how to proceed with each step of the scientific method. It won't feel like a classroom experience as kids are having fun interacting by engagingly touching the screen. The game shows challenge kids to reveal what they've learned.
Tappity topics include space, physical, earth, and life sciences, with over 100 themes for kids to learn and explore. They can learn things like geologic time, rainbows, types of energy, robots, extinct animals, animal needs, asteroids, black holes, and much more.
The app focuses on teaching sciences to kids aged 4-11 years. It is free with a monthly membership subscription of $14.99 per month.
Solar Walk 2: Your App Store Portal To Outer Space
Solar Walk 2 is a 3D model of the solar system and the Milky Way galaxy that allows kids to travel through space learning along the way. Start by viewing Earth from space at various angles. For the more adventurous explorers, use search to find your destination and off you go. Visit satellites, moon, dwarfs, planets, comets, and 3D models of spacecrafts.
The detail and accuracy of the astronomy app are astounding. Stunning solar flares, auroras, asteroid belts, the planetary atmosphere may captivate kids and adults with a unique experience as if they were in space.
Close-up views of planets teach kids about its surface temperature, trajectories, composition, exploration history, and other interesting facts. You can even travel bellow the surface to study the layers and also watch a sunset from Mars.
Time travelers may like the idea of visiting the universe at a specified period. The educational videos teach exciting astronomy facts. It's like having a planetarium on your device with an interactive encyclopedia.
The updated Star Walks 2 includes a comprehensive tour guide that wasn't available in Star Walk 1. The Apple Watch app consists of a quiz to test your astronomy knowledge. Star Walks 2 is the best apps for kids (and adults) who want the knowledge but also the virtual experience of traveling in space.
The app costs $2.99 with in-app purchases that are worth the premium access.
The Human Body by Tinybop - Discover Human Biology Virtually The Human Body is the best apps for kids offering a visual and interactive understanding of the human body. Kids from five years and older may be amazed at how the body functions. The sound effects alone make the app worthwhile.
Kids learn by interactively exploring eight systems of the body's anatomy and biology. By shining a flashlight, they will see how the pupil dilates. Feeding the body is an impressive visual and auditory understanding of how the food travels through the intestines.  
Text labels in over 50 languages enhance the child's vocabulary. The text, however, isn't essential to learn about the skeletal, nervous, respiratory, digestive, skin, or muscular systems of the body; toddlers who can't read yet will have as much fun as their older siblings.
The app costs $3.99 with in-app purchases. Each child can create their avatar, which means it is a multi-user system for all family members.
Toca Nature - Best App For Kids That Love World-Builders
Toca Nature is an open-end building app that helps kids discover the wonders of nature. It inspires kids to build a world from scratch.
They create various terrains by adding lakes, forests, grasslands, and more. When they zoom in, they can collect and distribute the natural resources found in those terrains. As they create a natural environment, animals and plant life appear.
Toca Nature, like all the Toca Boca apps, gives kids the best participation in creative exploration, allowing for imaginative play as they discover the wonders of nature. The tap and drag navigation feature may strengthen motor skills but could be slightly too touch-sensitive for younger kids.
The app's educational value lies in a child's ability to discover what nature has to offer. The open-end features allow for each child to explore and play how and where they want to go. It also teaches some patience in observing everything happening. 
Ideal for kids from four years and older, the app costs $2.99 and is compatible with iPhone, iPad, iPod Touch, Android, Kindle Fire, and Nook HD.
Our Favorite Kids Phonics Apps
Endless Alphabet -ABC Phonics Development For Preschoolers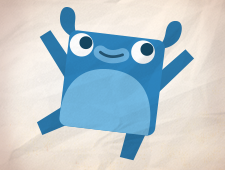 Endless Alphabet is one of the best apps for kids who want to learn their ABC but also play with the words in fun interactive puzzle games. They learn letter sounds by dragging the monster letters to the correct place in the name. 
It all starts inside the monsters' mouths. When a child touches a letter, a word beginning with that letter appears inside the monster's mouth. Touching the word activates a game about the concept. The fun game may have parents laughing too when the monsters wiggle, blink, and create sounds when your child places the letters forming the word.   
The education continues with animation videos that illustrate the definition of the word. Parents may be delighted with the library of over 70 new words your child can learn, setting the stage for future reading success. The vocabulary and spelling dictionary continues to grow with new words delivered automatically to the app.  
The ABC learning app focuses on ages 4-8 years old. It costs $8.99 and is compatible with iPhone, iPad, iPod Touch, and Android.  
Duolingo for Kids is a fun way for a child to learn a new language. Duolingo, the most popular language-learning platform, presented an app for an early reader and writer to learn English, Spanish, or French.
The gamified language classes teach everyday usage of sentences and expressions. The animated characters are your child's new friends. While playing with these characters and earning crowns, your child is becoming bilingual.
Duolingo Kids is a free app for iPhone and iPad users. Young learners may focus on learning a new language at any location; the app is available online and offline to use during travel, at the park, or home.
For high school teens, Duolingo offers a more comprehensive option of languages to learn like Italian, German, and Portuguese in bite-size pieces. They can even practice communication and new social skills in a second language on social media.
Great Kid-Friendly Art and Music Apps
Irrespective of whether your kid is a serious artist or not, Doodle Buddy is where fun meets art for a creative experience. The child uses their finger for drawing, smudging, and decorating images.
Stencils help kids draw the perfect circles, triangles, squares, and snowflakes, whereas the chalk smudges edges without getting it on your child's fingers. Kids may have as much pleasure in drawing on the iPhone or iPad, but parents need not worry that your child is going to smudge or color the walls or their bedding.
Children who are more experienced with art may stretch their creativity with this simplistic medium. Beginners may have as much fun with the backgrounds and over 1400 stamps to decorate they can use to decorate drawings and photos.  
The app is free with offers for in-app purchases.
Draw Animals for Kids is a free app on Google Play Store that teaches a toddler and young kid how to draw animals. If your kid likes animals and is forever asking you to draw a butterfly, dolphin, or duck, here is the opportunity for them to learn how to draw animals.
The animation drawings of over 40 animals are easy to draw, and the step by step instructions simple to follow.
The app is designed to teach your child necessary drawing steps and thereby creating an interest in observing animals in their surroundings. The reward-based progression system motivates little ones to follow the guidelines and complete their drawings.
Over 300,000 kids learn to play the piano with the Mussila Music School app. Mussila is perfect for beginners providing musical lessons, games, and challenges to teach them the piano.
The award-winning app music learning app teaches with gamified lectures and exercises. It teaches kids how to play the piano, how to read sheet music, and how to define rhythm. The focus is to teach children from 6 years old to 11 years old the basics of music.
Kids go on a journey with the Mussila band, where they help them find their costumes, instruments and create their composition.
The app supports two free courses during the 7-day free trial. It offers over 60 levels of engaging fun and gameplay while developing music skills.
Other Great Educational Apps
BrainPOP-Jr. Movie of the Week
If your kids like to watch videos, then they may enjoy these animated educational movies presented by BriainPOP Jr. Movie of the Week on iPhone, iPad, and iPod Touch.
It is one of the best apps for kids designed to encourage critical thinking covering Sciences, Reading, Writing, Social Studies, Health, Math, Arts, and Technology. Annie and Moby guide kids through the topics, motivating them to ask questions, engage in the bonus features, and make connections.
Over 40% of United States elementary and middle schools use the award-winning resources provided by BrainPOP. BrainPOP Jr. encourages youngsters to ask and form their opinions, and BrainPOP ELL is an English language learning program for all ages.
The app is free with in-app subscription options.
PBS Kids Games is a free app for kids with over 100 games with the popular PBS Kids characters preschoolers adore. A game features characters from their best shows like Daniel Tiger's Neighborhood, The Cat in the Hat Knows a Lot About That, Dinosaur Train, and Pinkalicious.
 The learning games are appropriate for a toddler two years old and older who want to learn the fundamentals about shapes, colors, numbers, matching, letters, and other concepts relevant to the age. 
Over 60 reading games for kids up to 8 years old, provide instant rewards when kids complete a set. Your preschooler may recognize their favorite characters from television series like Martha Speaks, Sesame Street, Clifford, and Caillou.   
What is the Best Learning App for Kids?
People may give their account of what is the top app, but in the end, the best learning app for kids depends on your children. Parents may help select the ones that are right for the ages of your children, but it's the child who uses the tool.
As a parent, you can make sure the app supports the device your child will be using (iPhone, iPad, iPod Touch, Android, and tablets), and that the app incorporates play and learning.
Parents can also help their children select apps relevant to their ages, skills, and interests. If the app is too easy, the child will be bored quickly, and if it challenges the child too much, they may also lose interest.