We all remember our favorite childhood toy or toys. Perhaps it was a telephone with googling eyes, or a toy vacuum so you could "help" with chores. We never realized that many of the toys we played with had some educational value as well. These shape sorters are a great toy to allow your child the opportunity to have fun while learning, and not even realize it! Each of these seven shape sorters offer something a little different, but all are sure to engage, excite and entertain your little ones.
Exciting Shape Sorters
Green Toys Shape Sorter

Lowest Price

Check price at

Melissa & Doug K Kids Take-Along Shape Sorter

Check price at

Fisher-Price Brilliant Basics Baby's First Blocks

Check price at

Hape Shape Sorter Turtle

Most Popular

Check price at

KidKraft Noah's Ark Shape Sorter

Check price at

Kids Shape Sorter Bump 'n Go Baby Bus

Check price at
Green Toys Shape Sorter, Green/Blue is a basic, yet very effective toy to both entertain and educate your little one. It is made of 100% recycled plastic, so you can feel good about leaving less impact on the environment. Your child will love the bright colors and chunky pieces which make gripping and handling easier. If you want to wash this shape sorter and its pieces, it is completely dishwasher safe, which means it will also get sterilized along with washed. You child will learn shapes, colors and practice their hand-eye co-ordination skills. The price is very affordable for this durable, simple toy and it is safe for even babies to use since there are no small parts or sharp edges.
Recommended Ages: 6 months to 4 years
Melissa & Doug K Kids Take-Along Shape Sorter offers a double sided, multisensory experience for your child. The bag is not only a convenient place to stow away the shapes when not in use, but it also acts as the shape sorter itself. On the opposite side of the take-along bag there are crinkly flaps to lift and explore the colorful shapes and pictures beneath. Parents can use this as a way to play and bond with their child, as they play together. The bag is padded which means it is safe for you little one to use and the textured shapes won't pose a choking hazard. This shape sorter is perfect for both at home and on the go. The price is reasonable and with the Melissa & Doug brand name, you can expect a quality educational toy.
Recommended Ages: 9 months +
Fisher-Price Brilliant Basics Baby's First Blocks are a fun way to introduce your child to the world of shapes and colors. The pieces are super easy to handle and manipulate, which reduces frustration for little ones just learning to use their grasping skills. This set comes with 10 different shapes, ranging in colors, to allow your child to develop hand-eye coordination, color recognition and shape sorting. The plastic pail holds the shapes and has a removable lid to retrieve them and start all over again! This basic, beginner set is extremely affordable and is a great starting point for your baby or toddler into the world of shape sorters.
Recommended Ages: 6 months to 3 years old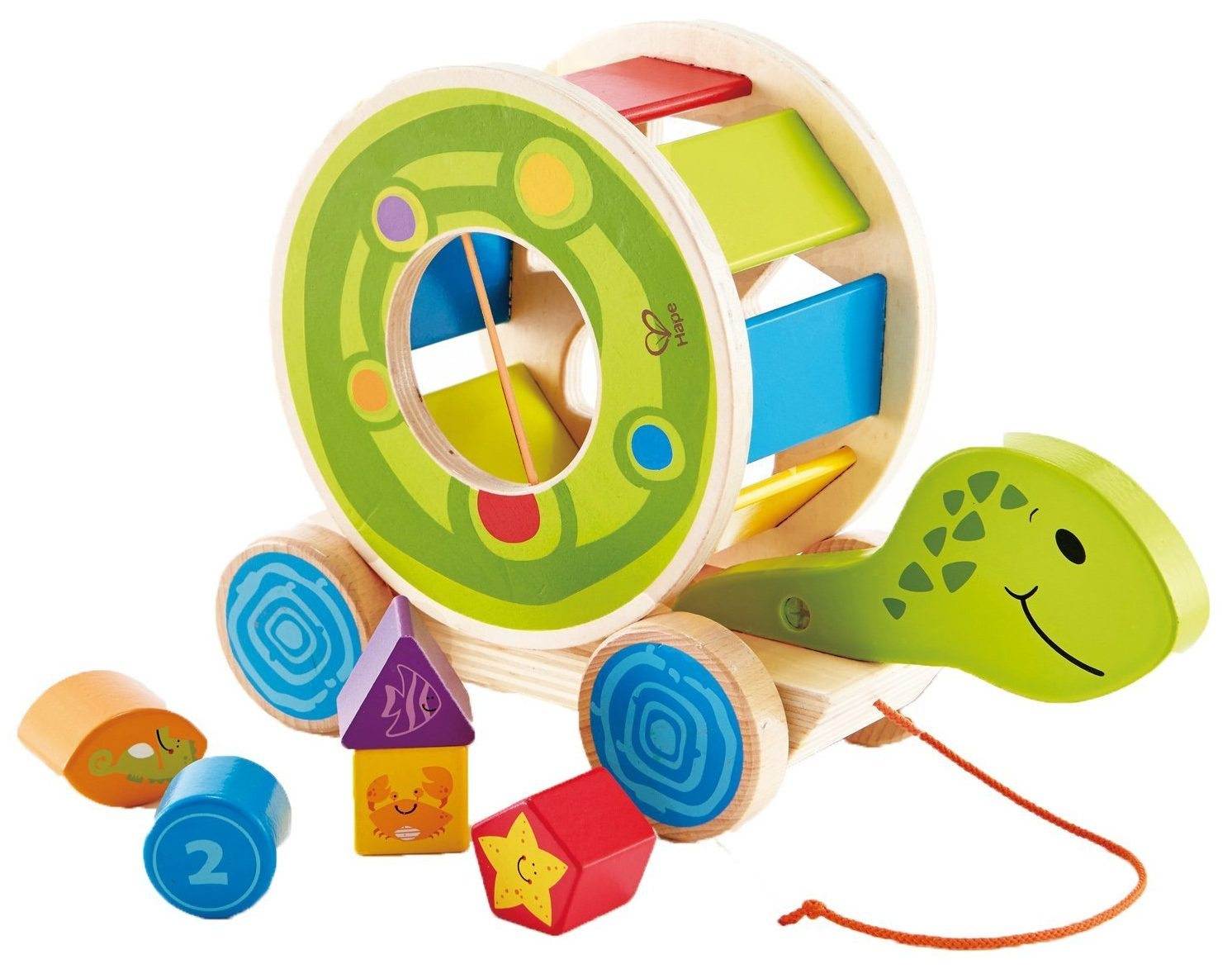 The Hape Shape Sorter Turtle is a durable, wooden shape sorter with bright, colorful pieces to engage your child. The back of the turtle acts as the shape sorter, but also rolls when the turtle is being pulled along by its string. This is sure to have your little one laughing with delight. The shapes are easily removed from the opposite side of the turtle without parental help. The pieces are safe for your child to handle and won't create a health concern such as toxic paints or choking hazard. With its wooden construction, this toy is sure to stand the test of time. It is priced moderately, a little higher than plastic shape sorters, but could possibly last longer since it is wooden,  and has the option of pulling it along as a pull-toy.
Recommended Ages: 1 year +
Glamore Shape Sorter Preschool Wooden Educational Toy comes with vividly painted wooden shapes, which will attract your little one's attention. The lid is removable and your child can still match up the shapes and colors too. Each of the 10 wooden pieces features a number, so you're child will be able to practice number recognition. This makes a great interactive toy for parents to engage with their child. With the wooden construction, you can expect this shape sorter to last for several years at least. The patterns painted in water-based paint are appealing to both babies and preschoolers alike. You won't break the bank purchasing this shape sorter either which is an added bonus.
Recommended Ages: 1 year +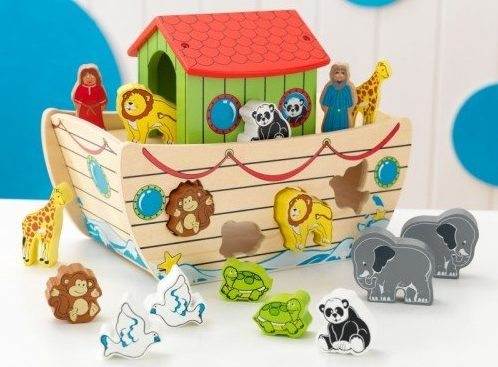 KidKraft Noah's Ark Shape Sorter is a different twist in shape sorters. It comes with 17 pieces in total, animals, Noah, and his wife. This sorter is a bit more challenging than traditional shapes. Children will love the painted animals and the ark shaped holder. The wooden construction stands up to older children using this without easily breaking. The roof of the ark is removable to retrieve the shapes and start again. Along with teaching hand-eye coordination, fine motor skills and shape matching, children can also learn the story of Noah and the ark with parents help. It is priced moderately for a wooden toy with non-toxic paint and vivid pictures of animals.
Recommended Ages: 2 to 6 years old
The Kids Shape Sorter Bump 'n Go Baby Bus offers loads of fun in varying ways for your child. The shape sorter features animals shapes to be matched in the side of the bus. Meanwhile, the bus itself has lights, music and also moves along which will entertain for hours. Children will experience the feeling of instant success when they match the correct animal shape, since there are corresponding animals sounds for each slot. The bus plays eight different tunes and the passenger in the front bounces and moves to the music. Because of the multiple functions and features, this bus can last a child from a very young age well into their preschool years. It is priced moderately, which seems fair since you can enjoy different activities with this bus.
Recommended Ages: 18 months +
Have you a shape sorter at home that your kids love? I bet you have some memories of playing with one when you were young—I know I have! There's a reason that this toy has been around so long.
Feature image courtesy of Flickr, tompagenet.